The Fortuitous Invitation
Several months ago, Tori and I committed to getting away for two weeks—the first real vacation of my professional life, my little jaunt to Thailand notwithstanding. We scanned the globe for exotic destinations and let our imaginations wander from New Zealand to Myanmar to East Africa. However, moments away from buying plane tickets to Nairobi, a new friend invited us to sail with him from Tahiti to Bora Bora and back. Why not? While I couldn't place Tahiti on the map and had no idea it was part of the protectorate of French Polynesia, chartering a yacht for some blue-ocean sailing to seemed like an adventure.
I'd wanted to visit Polynesia since reading Collapse by Jared Diamond almost a decade ago. I was fascinated by the triangle trade between Pitcairn, Henderson, and Mangareva and wanted to see how the ancient Polynesian seafarers lived in today's world. After opening an atlas, I learned that Tahiti is just south of Hawaii at -17 degrees latitude, only two hours ahead of California longitudinally, and the largest island in the French Protectorate that just happened to also contain Mangareva, the seat of the South Pacific triangle trade Diamond used to illustrate societal failure. While we wouldn't be visiting the remote Mangareva, found in the Gambier Archipelago more than a thousand miles from Tahiti, I was excited to get a first-hand taste of life in the most remote region on earth.
Follow along with the map below (full window). Chronology is indicated by color with hue decreasing as time passes. Thus, our first leg is red, followed by magenta, blue, green, orange, and white.
Arriving in French Polynesia (Day 1-2)
Pape'ete, the largest city in Tahiti and the capital of French Polynesia, only receives a handful of flights a week. Given that we were arriving a few days after the rest of the crew and we were to set sail hours after arriving, we absolutely could not miss the international flight and needed to cushion our connection at LA by at least four hours. By some logical leap, four hours turned to twelve and we scheduled ourselves a fun beach day in Los Angeles to ease into the Tahitian lifestyle. Santa Monica and Venice greeted us with open arms and we were en route to Polynesia.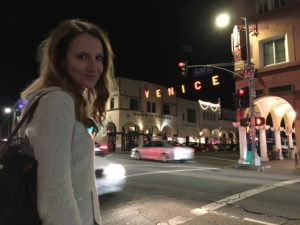 Warming up for island life in Venice.
After a quick, eight-hour flight, we arrived in Pape'ete and grabbed the next puddle jumper to Raiatea, the Dream Yacht Charter world HQ. Strangely, there are no ferries around the Society Islands despite the miniscule distances between them, so Air Tahiti runs an extremely expensive air service to fill the gap. While loading up on French literature aka Cosmopolitan en français before boarding the connection, we made a chance C-list celeb sighting and witnessed her entourage cut right to the front of the security line. Who knew a ten-year-old show on Bravo would open such doors?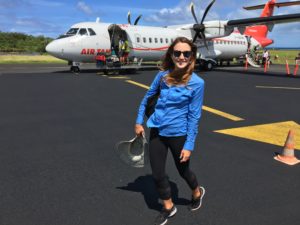 Landed in Raiatea.
45 quick minutes after leaving our celebrity friend behind in Tahiti we arrived in Raiatea and were reunited with our friends at the Dream Yacht Charter office, a few cinderblock buildings scattered about a marina filled with Lagoon-branded condo-marans. We made one last run to pick up more provisions at the U Market and savor our first taste of fresh South Pacific eau de coco and we were off.
Setting Sail (Day 2-3)
At moderate latitudes, the trade winds blow from west to east. The prevailing westerlies have pushed explorers from Magellan to Cook across the globe and continue to dictate the path of modern circumnavigators. Those leaving from California will typically sail straight to Hawaii, head south to French Polynesia, and proceed west to the East Indies. These winds are the reason why the infamous HMS Bounty mutineers evaded capture for so long on Pitcairn and why Easter Island remains so inaccessible.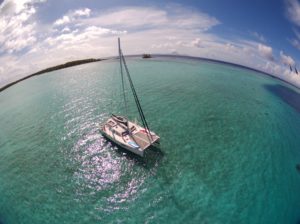 Curie from the air.
From a cruiser's perspective, these trade winds make it difficult to return from the far western islands in the Tahitian archipelago, also called the Leeward Society Islands or Îles Sous-le-Vent. Most visitors to Maupiti, a remote island on the far western edge of the Societies, simply continuing sailing downwind to the Cook Islands. However, we set sail during a perfect window. Meteorological reports indicated that the trades would be supplemented by a push from the north. This slight deviation could allow us to spend a few days in the elusive Maupiti without committing to an around the world voyage. Our plan was to wait a few days around Taha'a and Raiatea for the system to emerge, push downwind to Maupiti, and catch the beam back to Huahine when the winds shifted. The plan was risky and could have left us with no other option than continue the voyage to Fiji and beyond, but we all had faith in our captain.
The first hop was just over the lagoon to Taha'a, Raiatea's sister island. Raiatea is home to French Polynesia's second city and less agreeable to tourists, while Taha'a is largely uninhabited and surrounded by one of Polynesia's picturesque lagoons. After a short, smooth sail, we set anchor on the west side of the island within spitting distance of private island peppered with overwater bungalows and their famous coral garden.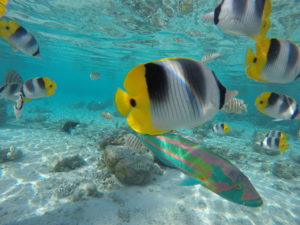 Tropical fish are enormously concentrated at in the passes between the lagoon and open ocean.
Most French Polynesian islands consist of a mountainous core formed by ancient volcanic eruptions and ring of motu formed by coral growth at the periphery. Over time, the volcanic rock eroded into a lagoon leaving two unique ecosystems, ocean and lagoon, separated by motu and barrier reefs. This curious geology results in the nutrient exchange between the ocean and the lagoon very concentrated through small channels. The referenced coral garden on Taha'a is one such channel. Nutrient-rich water flows from the ocean to the lagoon and enterprising snorkelers like ourselves ride the current and observe a bewildering range of aquatic life without spending a single calorie pushing our fins through the water. Over the course of a few trips down the channel, we saw dozens of species of brightly colored fish, anemones, clams, coral heads, and eels.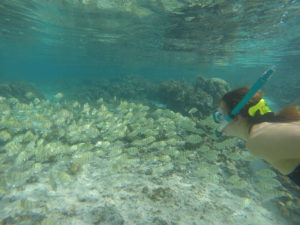 Tori found a school of fish in the coral garden.
That night on the boat, we enjoyed our first meal at sea together and went to bed questionably early. In many ways, sailing is like the camping. The sun goes down and we hit the sack.
We woke up to a forecast of heavy rain and squalls. We knew we were exploring the South Pacific during hurricane/rainy season, also known as the southern hemisphere spring, but the timing benefits outweighed the weather costs. Wanting to avoid snorkeling in murky waters brought about by heavy rain or getting soaked while touring a vanilla plantation, we sailed back to Raiatea to visit a pearl farm, which happened to be run by a lovely ex-patriot from San Diego who fell in love with a Tahitian man and never looked back.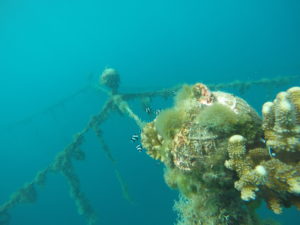 Rope network for organizing pearl-laden oysters.
Farming pearls is an interesting process. Under normal circumstances, an oyster grows a pearl around a small rock gravel or piece of sea grit that enters its shell. The mother of pearl that is deposited inside of the shells is laid down over the irritant to form a beautiful but misshapen lump called a Keshi pearl. The symmetric round pearls usually used in jewelry are farmed by iteratively installing larger and larger ceramic beads (made in USA!) in the oyster's reproductive sac. The oysters are then zip-tied to an undersea chain. After a set period of time, usually two years, the ceramic is removed, now coated with pearl, and a larger bead is installed. At some point, the oyster dies or stops producing. Hence, while larger pearls so not actually contain more pearl, they take more time to produce and thus cost more.
Black and colored Tahitian pearls add one more step to the process. Not surprisingly, the color of the mother of pearl deposited is determined by the cells in the organ. This phenomenon is observed inside an oyster shell whose mother of pearl varies from silver to black to green. To specify the color of a grown pearl, the pearl farmer transplants a piece of tissue known to deposit a certain color (by referencing the shell from which it was harvested) into the reproductive sac along with a ceramic bead. The oyster usually accepts the transplant and produces a pearl of the desired color.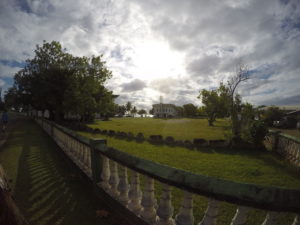 Most of the big structures in French Polynesia are churches. We spotted this one on the way to the grocery store.
After a quick snorkel through the farm and demonstration of the brutal surgical process (those poor oysters), Tori picked up a beautiful black pearl necklace and we headed to shore to visit rural Raitai. In a pattern that will repeat itself, we walked the one paved road a few hundred meters around the perimeter and stocked up on provisions at the local general store. These little enterprises are amazingly well stocked for existing on a remote island in one of the most remote corners of the work. $150 in mostly imported products later, we dinghied back to the boat to prepare of the overnight sail to Maupiti.
On a somewhat unrelated note, Tahiti and Her Islands are lands of bounty. In nowhere else in the world would I feel more confident living off the land. Coconuts, breadfruit, mangos, and other staples grow abundantly and the lagoons are full of good-sized fish. The region was totally self-sufficient until fairly recently but now imports over 80% of its food. The locals (and tourists) have gotten a taste for New Zealand beef, French cheese, American corn, and, of course, Coca-Cola. So sad to see the land of plenty so dependent.
Maupiti (Day 4-6)

Maupiti and her motu from the bow at our first anchorage.
Fortunately, the favorable northerly winds prevailed and in a game-time decision, we set sail for Maupiti reasonably sure we could get back. And if we couldn't, I'm sure Fiji would open her arms.
Our voyage from Raiatea to Maupiti would be our first ocean passage. The lagoons and seas immediately between them are as calm as inland lakes. Outside, the forces of the Pacific reign untempered. The overnight sail to Maupiti began inauspiciously for me. Within thirty minutes of leaving the lagoon, I was stricken with seasickness and could hardly rise from the trampoline. I've sailed the roughest seas the SF Bay has to offer and have never suffered a bout, but the unfamiliar motions of a catamaran and gusty winds that filled the gennicker just out of phase with the waves nearly did me in. Fortunately, a couple Dramamine pills later, I was fit and ready for my watch.
When sailing overnight, it is important to keep at least one pair of eyes on the ocean at all times in case a larger ship approaches, the wind conditions changes, an uncharted reef appears, or something else goes horrifically wrong. My shift was from 10 pm-12 am, but between the Dramamine, the elderly hours we'd been keeping aboard, and the eerily quiet sailboat rocking through the night, it was nearly impossible to keep my eyes open the entire time. When our relief arrived, I could not have been more happy to close my eyes.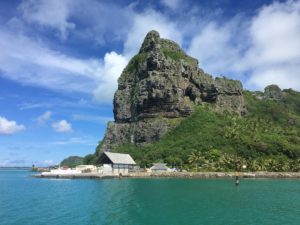 Maupiti's little El Capitan. The face is unclimbable to due the unstable igneous rock.
In the morning, we awoke to Maupiti, sometimes referred to as Bora Bora's little sister. She boasts a jagged volcanic peak protected by a handful of motu littered with a few small pensions and snacks. In the water, Maupiti is famous for a feeding station where 10-15 foot Manta Rays congregate to get their fill of zooplankton and other delicious undersea micro creatures.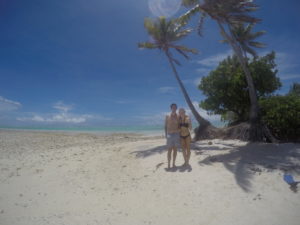 Picture-perfect Hollywood tropical island on one of Maupiti's motu
As soon as the anchor hit the sandy lagoon floor, we took the dinghy out to the alleged Manta hangout but came up empty-handed. To drown our sorrows, we swam to a motu to gamble on some hermit crab races and run agility drills through sea cumbers as we walked in.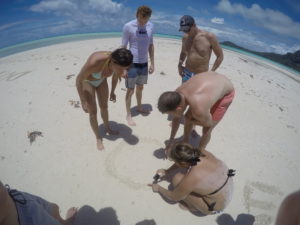 Hermit crab racing on an uninhibited tropical island.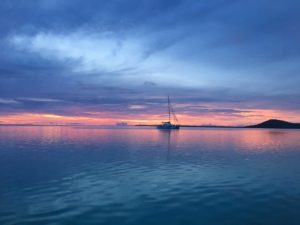 Our first sunset on Maupiti.
That night, Tori and I decided to get off the boat and go out for a little date night. We were anchored a bit far from town, but spotted a restaurant-looking spot on a nearby motu from the boat and paddled out. We were greeted by the friendly proprietress of Utufare Manihini who very reluctantly agreed to feed us if we came back in a couple hours for dinner. We hustled back, changed, and were greeted with a delicious spread of poisson cru, sashimi, and other delectables. This was our first real taste of Tahitian food and boy did I want more. Full of fresh seafood and Hinano, we made the wobbly paddle back to the mothership as needlefish and other sea creatures breached across the bow of our boards.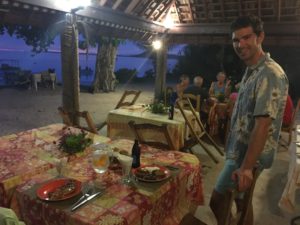 Delicious Tahitian dinner on the lagoon at Utufare Manihini.
Dinner was delicious and not cheap–something like $50/person when all was said and done. French Polynesia's per capita income is about a third of that of the US, to put this in context. I was taken aback by how hard I had to negotiate to earn the privilege of eating at this little pension. I've traveled the world a bit and have found the people in developing countries to be some of the most enterprising on earth. In Peru, while wearing sandals, I've been offered a shoe shine. In Vietnam, we were able to rent the motorcycles right out from under a moto taxi driver's behind. In Morocco, I couldn't take a single step without being offered a visit to a carpet shop. In French Polynesia, I was rapidly learning that I had to beg for anyone to take my money. I got the feeling that locals had no interest in riches, enterprise, or entrepreneurship. There is a Tahitian word for this state: fui.
Tony Horwitz describes it perfectly in his conversation between James, a ex-pat school teacher, and Roger, his travel companion, in Blue Latitudes, an account of following Captain Cook's footprints through modern Polynesia:
"He pointed at a young woman standing by the entrance of the café, staring into space. 'That is one of my former students. She looks content, no? And see that one?' He gestured at a man by the road, leaning against a tree. 'He was here when I arrived at noon. It is now two. He has not moved a muscle. He will be here another hour, probably.'

James, who spoke fluent Tahitian, said islanders have a word for this state, one that really didn't translate into any tongue: fiu (pronounced "phew"). On one level, fiu signified fed up or exhausted. 'Someone will start to mow your lawn, do half, then never come back to finish or collect money because they are fiu,' James said. 'More often they, they will not show up in the first place because they are already fiu.' In this sense, the word also connoted boredom, blankness, lack of motivation. 'Guauguin painted it on the faces of his women. It is a sort of ennui, except drained of even ennui.'
Fui, island time, apathy, whatever you want to call it defines life on the islands. I got my first real taste of fui on Maupiti, but it would certainly not be my last.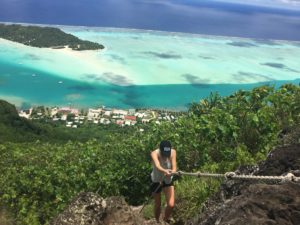 Climbing Mt. Teurafaatui on Maupiti.
The next morning, we woke up, moved the boat to the east side of the island, and prepared to summit Mt. Teurafaatui, the highest point on Maupiti. Following a serpentine path through the jungle replete with Indiana Jones-style ropes and volcanic scrambles, we were treated to a breathtaking view from the summit. No words can do the vista justice.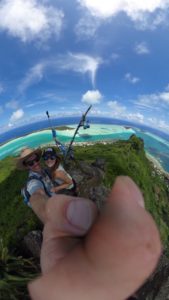 The top of the world in Maupiti
On retour, we lunched at Tarona Snack, conveniently situated at the trailhead, and enjoyed more delicious poisson cru and tuna sashimi. Recharged with great food and a couple Hinanos, Tori and I sought out a dinner spot for the entire group of nine. We were quickly learning that getting dinner at a restaurant in French Polynesia is more like visiting a friend. If they are not expecting you, good luck getting fed. We walked a deceptively long mile and a half on the paved road around to Maupiti's finest beach in search of Espace Beach, Maupiti's finest restaurant. Unfortunately, neither were anywhere to be found and we hitchhiked back with a local tourism official.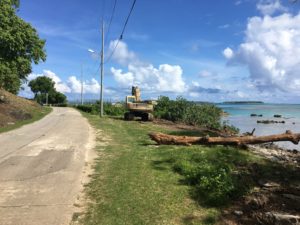 On the walk to Espace Beach.
Apparently, all of the restaurants on Maupiti close after lunch and need a couple days notice to prepare dinner. He couldn't recommend a single restaurant on the mainland and Utufare Manihini from the previous night was too fui to seat a larger group. We hunkered down for another dinner on the boat.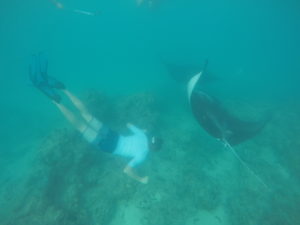 Snorkeling with Manta Rays.
Our final day in Maupiti began early with a second attempt to snorkel with the Manta Rays. Some overnight rain dropped the visibility to 10 feet. After bobbing around near the marker for ten minutes, we were on the verge of giving up when a massive ray appeared out of nowhere and glided past. And then another. Soon we were surrounded by half-dozen sea monsters. It was surreal watching these giants gracefully fly in and out of our vision in the murky water. Once it got too chilly to continue enjoying the show, we reboarded and the strong northerly that did materialize toward Huahine.
Just out of the Maupiti, I again was struck with seasickness. I assumed the first was a fluke, but it clearly was not. I was responsible for tying town the paddle boards before the seas got too rough and had to lie on the trampoline with my eyes closed between each wrap of the rope. When I eventually did get the boards tied down, I could hardly move. Fortunately, modern medicine has emerged with a strong cure for this. While I previously knew Dramamine, a short-acting, drowsy formulation that in itself triggers nausea, Tori had picked up some a long-acting, non-drowsy formulation that seemed to immediately alleviate symptoms without any side effects. Within 15 minutes, I was right as rain and emerged from the realm of the dead just in time to witness our captain reeling in a 40-pound Mahi Mahi with our hand line.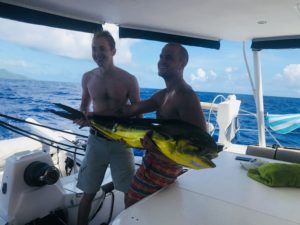 Mahi Mahi ceviche for Thanksgiving dinner?
Within a few hours, this beautiful fish would feed us an incredible improvised ceviche. We intended to push all the way to Huahine by sailing through the night, but somewhere on the voyage, the autopilot started malfunctioning. To avoid the danger of drifting off course, accidental jibes, and other terrors in the middle of the night, we anchored in our familiar harbor in Taha'a and set out for Huahine at daybreak.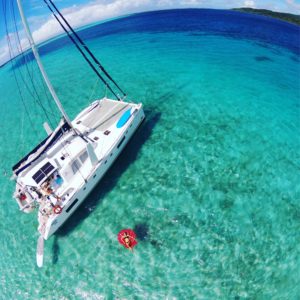 Tori enjoying her clam shell at anchor in Taha'a.
Huahine (Day 7-9)
Learning from my previous lack of open ocean legs, I popped a pill before we got underway and didn't feel a hint of seasickness. Rather than dreading the previously stomach-churning waves, I grew to appreciate them. Some combination of habituation and great drugs kept me very content as we sail-motored on to Huahine. Unfortunately, the favorable northerly winds quit and we were forced to burn some baby dinosaurs to propel us down the home stretch.
We arrived in Huahine around 5 pm and were greeted to a totally different vibe than Maupiti. A swanky, or what seemed swanky at the time, resort perched itself on the beach and the town boasted a whole stretch of real businesses selling real things. Unlike the island paradises of Maupiti and Taha'a where every resident seemed happy and nourished, Huahine was cursed with poverty, drunkenness, illness, and other social ills that arise from too many people or too few resources.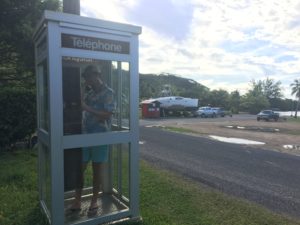 Calling dive shops in Fare, Huahine.
Tori had recently gotten dive certified in Monterey, CA (this is an entirely different story, but it takes a special kind of masochist to learn to dive in 50-degree water), so we walked through town to find one of the two dive shops and take advantage of her certification. It was after 4 pm, so not surprisingly, both were closed. However, we spotted movement near Mahala Dive's dock and waved down Roberto, a Hawaiian-born Tahitian who served as captain for the shop. His boss, Annie, was done for the day, but we could come back in the morning to schedule a dive. At this point, I was not surprised by how unwilling he was to take our money but absolutely flattered when he ran after us, Annie on the phone, to reserve a dive for the following day. Perhaps his Hawaiian upbringing overcame the fui.
We found our first French Polynesian resort on Huahine.
To celebrate successfully booking a dive for the group, we paddled to Maitai Lapita Village and enjoyed our first taste of South Pacific luxury. It was ok.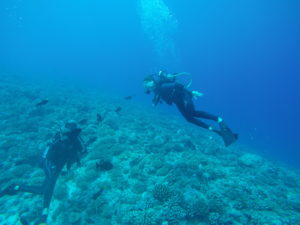 Tori enjoying her first post-certification dive with Annie of Mahala Dive.
The next morning we returned to Mahala Dive for a 70-foot reef dive. Like our trip through the coral garden, we saw a ton of fish complemented by a Moray Eel, a Blackfin shark, and a puffer fish. The only difference was that the colors were far less vivid 70 feet under and we paid $75 each for the privilege. That said, we all had fun and there is some novelty to swimming around underwater without having to worry about coming up for breath. The gang celebrated a successful dive over lunch Huahine Yacht Club, a mediocre establishment with a great name, and looked around for something to do next. We had planned on renting scooters and exploring the island, but business shuts down at 4 pm. Instead, Tori and I paddled around looking for good surf, but no one was out and the waves were breaking too close to the barrier reef. We called it early and joined the party on the boat.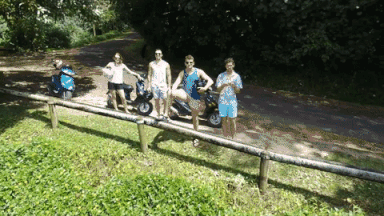 The scooter gang summits the highest pass on Hauhine.
Our last day in Huahine, we successfully commandeered a squadron of scooters and zipped around the figure-eight paved expressway that encircled the island and its petite iti southern neighbor. In the midst of our travels, we were treated to vanilla ice cream straight off of the plantation, a traditional Tahitian lunch cooked in an underground oven, and slices of the mythical hulahula, the red banana that earned Savage Island aka Niue its name.
Bora Bora (Day 10-14)
Ahhh… Bora Bora. The name itself echoes Shangri-La and other South Pacific legends. No one knows exactly how Bora Bora established itself as the jewel of French Polynesia, some point to Tales of the South Pacific by James Michener, but after 10 days of adventuring through the relatively uninhabited and untouched gems of the Societies, the crew was excited to see what all the fuss was about.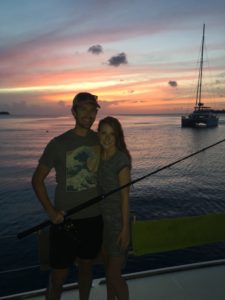 Sunset at the Bora Bora Yacht Club.
Bora Bora is only accessed via a single tight pass best not to cross at night, so we set sail as soon as the sun rose. If we didn't arrive at the pass by night, we would have to endure another night shift, except this time we would have nothing to do but float around the deep water outside the atoll. The crew was motivated and the winds favorable. We arrived as the sun was setting behind Bora Bora's Gemini peaks. We moored at Bora Bora Yacht Club, the option closest to the pass, and entertained ourselves with the rays, sharks, and other curiosities swimming by our vantage on the dock.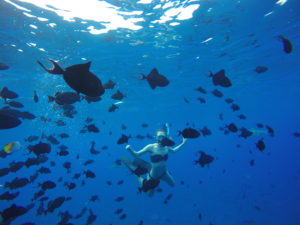 Lots of fish in shark alley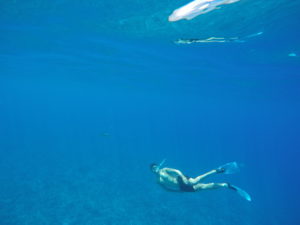 And even some sharks if you look closely.
The next morning, we woke up early and snorkeled at shark alley. Just outside the lagoon, local tour companies feed the fish bread, which in turn attracts dozens of small nurse sharks. Expecting food, we were surrounded by schools of fish and orbited by expectant sharks. To sweeten the pot, we threw a few pieces of remaining Mahi Mahi overboard to stir up a feeding frenzy.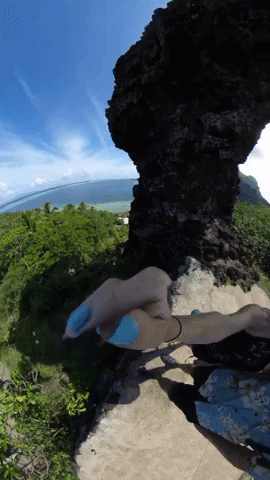 Overlooking an old American cannon emplacement.
That afternoon, Tori and I rented a scooter and tried to ride over Fannui Pass, the 4×4 route the connects the east and west coasts and offers spectacular views from the summit. Motocross on a scooter is tons of fun (riding motorcycles in foreign lands is one of my favorite pastimes) but Tori's resolve for offroading thinned quickly. We turned around to take the paved route around the island. While Tony Horwitz did not have good things to say about the non-resort areas of Bora Bora in Blue Latitudes, I totally disagree. The little towns strung along the coast seemed more Maupiti than New Dehli. Both the local humans and ecosystem appeared healthy and happy.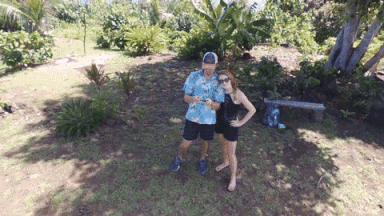 WWII-era American cannon emplacement on Bora Bora.
Bora Bora was an American field base during WWII, but little evidence remained beyond a few rusty cannons. On the way back to our mooring, we stopped for lunch at Matira Beach, the hot stop on the Bora Bora mainland. A couple amazing coconut milkshakes powered us back to the boat and on to dinner at Bloody Mary's, the iconic Bora Bora restaurant. Part-Applebee's, part Senior Frogs, and part Chez TJ, Bloody Mary's is definitely a must-visit and the food wasn't half bad either. After dinner, we tried to kick off a bar crawl, but there is literally no night life on the island.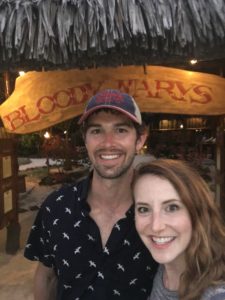 Making our mark alongside all the celebrities at Bloody Mary's.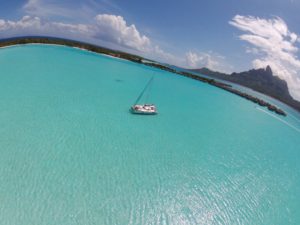 Curie moored with the St. Regis and Bora Bora mainland in the background.
The next morning, we sailed to the eastern side of the lagoon. Here, we anchored adjacent to the thousand-plus dollar overwater bungalows peddled by the likes of Intercontinental and St. Regis. The surrounding motu are stunning and in the midst of capturing some epic drone panaramas, we lost a DJI Mavic into the aquamarine sea. Fortunately, the lessons of finding my Bebop in Mexico stayed with me and we recovered the SD card.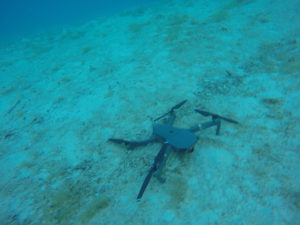 Mavic located…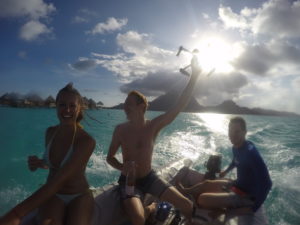 …and triumphantly returns home.
It is to be determined whether the Mavic will fly again after a bath in distilled water and sentence in the desiccator. We took the edge off losing the drone with another scuba dive—this time looking for Manta Rays, but we failed to find any. Despite the miss, seeing such a healthy coral ecosystem alongside a lagoon shelf was a treat. In my diving and snorkeling history, I've spent far too much time mourning dead or damaged reefs and that in Bora Bora was one of the most vibrant I've seen.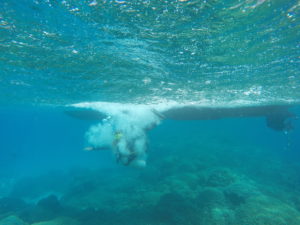 Tori demonstrating a beautiful backward flop entry.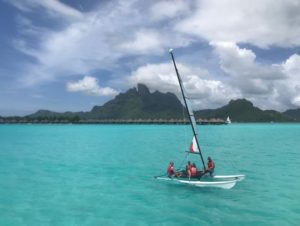 Playing with the St. Regis hobie cat.
The next morning, Tori and I made landing on the St. Regis beach. Ostensibly, we wanted to breakfast at their hotel restaurant, but curiosity begged us to do explore this place that commanded more than a dollar minute from each and every guest. Tori and I chatted up the staff over breakfast and our co-conspirators Eric and Morgan conned them into letting us rent their 16' Hobbie Cat. The whole crew had an absolute blast roaring back and forth across the lagoon (jibe only, no tack) and I managed to capture some incredible footage using the subject-tracking feature inside Bebop's Free Fly 3 app. Unfortunately, I was having so much fun exploring the new features that I ran the batteries down and my trusted adventure partner of almost three years took a bath not too far from the Mavic. This trip was an absolute drone holocaust. Unfortunately, the Bebop could not be resurrected. At least I have a reason to buy a DJI Spark.
Note to Parrot's UI designers: the phone battery status should not receive equal prominence alongside the drone battery status. I was paying attention to the wrong number and by the time I got a low battery warning, the Bebop was already falling out of the sky.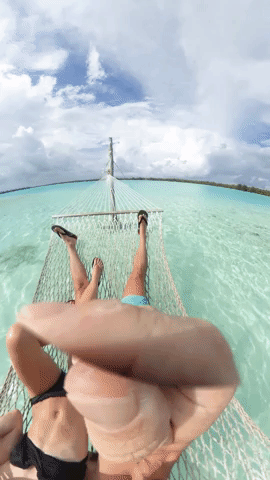 Enjoying a slice of paradise at the St. Regis Bora Bora.
After returning the Hobie, Tori somehow negotiated complete use of the St. Regis resort for $12.50/person. You read this right. Tori managed to grant us access to $1500/night worth of amenities for a hundred times less. The St. Regis boasts several amazing pools, a tennis court, a lagoonarium stocked with beautiful fish, hammocks on the beach, and just about everyone one could possibly expect during an idyllic beach vacation. We enjoyed all of it. For dinner, we splurged on the St. Regis's glass floor Lagoon restaurant, which served a Tahitian wine almost as interesting as those found in Valle, and ended up closing out the bars (they close at 10:30) with a nice couple from Alabama on their honeymoon.
Tahiti and homeward bound (Day 14-16)
Our last day in Bora Bora began early with an appointment to get the boat repaired before our final leg back to Raiatea. At some point, when entering Bora Bora's lagoon, we had lost a propeller, the fifth time the Curie has suffered this fate. After we were deemed seaworthy, we caught the trades back to Taha'a where we arrived just in time to catch a Polynesian dinner and dance show.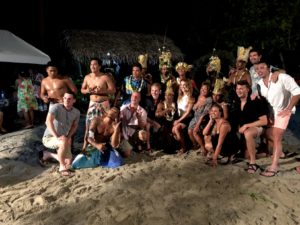 The Curie crew celebrating the last night together at a traditional Tahitian dinner and dance show.
The next morning was a flurry of cleaning and packing before returning Curie to Dream Yacht Charter in Raiatea. We wandered around Uturoa for a few hours looking for some souvenirs or trinkets to bring home, but there really is very little to buy in French Polynesia and the shops all closed at noon anyway. We did find a bar. Fui. A few lazy coconut milkshakes later and we were at the airport waiting for our flight to Pape'ete.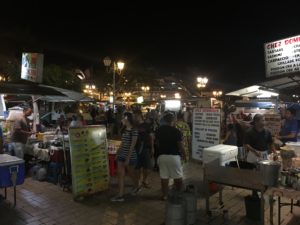 Roulette or food truck square in Pape'ete.
Landing in Pape'ete, I was amazed by the scale of the city. I saw construction cranes and ten-story buildings and parks and wide boulevards. The streets of Pape'ete resembled those of their colonial patron far more than the other Tahitian cities. From our abode for the night, the Swiss consulate no less, we walked along a picturesque waterfront passing by a pop-up outdoor movie theater, a public aquarium, and a closing farmer's market before arriving at the roulette square, where food trucks of all flavors served under the stars. A mavi, a poisson cru, and a coconut crepe later, we wandered over to Trois Brassuers for a few goodbye beers and a  local reggae-ish band jam out. Contrary to popular belief, Pape'ete is a nice town that feels like a proud, romantic colonial capital. I would have no objection to serving in some diplomatic post here.
A few short hours later, we were back at the Faa'a Airport homeward bound. Goodbye Tahiti and thank you for your hospitality!
---
Also published on Medium.