Last week I had the beautiful opportunity to spend a week with Baja with my dad to celebrate his 60th birthday. True to our growing history (see our Transamerica Trail, Jalisco, and CO/UT Backcountry Discovery Trail+ adventures) of exploring via motorcycle, we planned a five-day, offroad loop of the peninsula to visit such legendary Baja haunts like Horsepower Ranch, Mike's Sky Rancho, and Mama Espinoza's that would be capped by the three-day Baja Rally School, run by Baja Rally promoter Scotty Breauxman neé Bloom. The former was an incredible look into the diversity of amazing riding available–from fast, graded roads along the beach to miles of smile-inducing sand whoops to nasty singletrack through the mountains–just south of the border and the latter an incredible look into the esoteric world of roadbook rally racing. That said, I left the trip hooked on both so read on for the dirty details.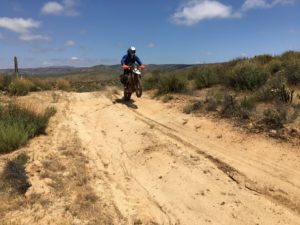 The first stage of our odyssey was a self-guided tour through northern Baja. When I mentioned we planned a loop above, I used plan in the loosest possible sense. I was absolutely slammed at 3DR up to the very minute I boarded my plane southbound and my dad was in the midst of launching a new product at Agribotix and putting all of our gear together. Pre-trip planning involved grabbing a bunch of tracks off GPS Exchange and hoping for the best. Fortunately, we did pretty darn good. The map below (full-screen here) shows off our adventure. Please follow along on the map and feel free to click the black dots to get an idea of what the riding looked like at each step along the way.
Also, in addition to the trusty Parrot Bebop I previously brought with me on the CO/UT BDR route, I decided to up my game even further with a Ricoh Theta 360 cam. This device is like two GoPros stuck together back-to-back that captures a full panorama and stitches together the subsequent image. Using the included software, it's possible to create all kinds of fun effects like the one below or embed the full 360 image into a website like this one. Whenever I wanted to give the reader a real impression of what a place was exactly like, I snapped a 360 image so have fun with the handful I included below (note that the 360 images are hidden on mobile because multiple accelerometers listeners seem to crash the browser).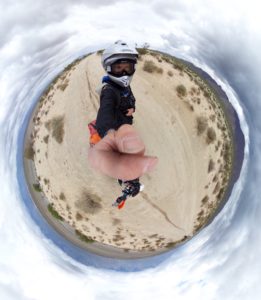 Day One: Ensenada to Horsepower Ranch
Day one was fairly uneventful. My dad and I left San Diego in the morning and expected to arrive at Horsepower Ranch in the early afternoon to give us plenty of time to explore. However, two notable wrenches flew into our spokes. First, motorcycles are rumored to no longer be allowed to cross the Otay border. We never got a firm answer from anyone on either the US or Mexican side, but we were rerouted to San Ysidro. If you are crossing into Baja with dirtbikes, I would highly recommend following our lead to avoid sitting with Mexican immigration for two hours. Second, there is an annual bike ride from Tijuana to Ensenada. They close the entire highway for said ride. This turned an hour hop into an afternoon excursion, but on the bright side, whales were breaching along the coast for miles, so we just turned the traffic jam into a free whale watching outing.
When we finally arrived at Horsepower, only a miles out of Ensenada, we were greeted by Rodrigo, one of the offroad legends of Baja, and his team. The ranch is beautiful and houses the offroad hall of fame. I would highly recommend all of the Baja-bound stop through on their way south.
Day Two: Horsepower Ranch to Mike's Sky Rancho
For the uninitiated, Mike's Sky Ranch is also a stop on the Baja pilgrim's trail. The standard route from Horsepower to Mike's takes riders through Ojos Negros, the pine forest, an Indian village, and a number of other curiosities. The riding is mostly graded dirt and what we would call Forest Service roads in the States, but it is fast, fun, and a good introduction to Baja. The pink tracks in the map above show our exact route.
Pan around the image above to see our first gate in Baja. Because the region is primarily rangeland, cattle roam everywhere. Make sure to leave the gates as you find them so the ranchers keep inviting us back!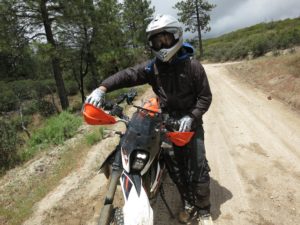 One would think that travelers visiting Mexico in early May would be in for sunshine and swimsuits, but the mountains of Baja are cold. We got snowed on while climbing up to Mike and I had to improvise duct-tape gloves to keep my hands from turning to popsicles.
Peek around the legendary Mike's pool using the viewer above. We arrived at Mike's with no reservations just assuming that a big, popular place like Mike's would have space. We were right. My dad and I were the only ones at the remote ranch and had the place to ourselves. This, however, was a double-edged sword. Niceties like heat, water, and electricity were scarce and the service recalled the San Francisco DMV. Later in our trip, we did learn that Mike's still does quite a business with tour groups, but I would highly recommend skipping this one and pushing to Meling Rancho just down the road. Mike's has been coasting on a dream built in the 60's and relegating the place to the dustbin of time would offend no one.
Day Three: Mike's Sky Rancho to Bahia San Luis Gonzaga
If day two were a little too Colorado Forest Service road for me, all the disappoint was shed and more on day three. Descending from Mike's to the Sea of Cortez takes you across a simply epic salt flag that is punctuated by powdery Baja sand, endless washes, and the legendary whoops of the San Filipe 250. This leg of the trip would be a day of bliss for any desert rider.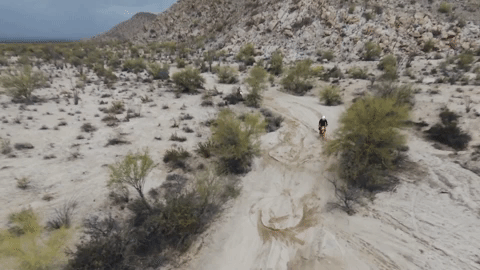 Once we hit San Filipe, we grabbed an excellent tourist lunch on the water (San Filipe seems like a great redneck little beach town) and continued pushing south to the coolest looking bay we saw on the map, Bahia San Luis Gonzaga. Why there? I have no idea–perhaps Rodrigo from Horsepower ranch pointed us in that direction. South of San Filipe is the Valle de los Gigantes park. When looking over the map, we had no idea what kind of giants we would encounter, but it turned out they are absolutely monstrous Saguaro-like cacti. Very cool to stumble through such a natural wonder.
As we continued down to Bahia San Luis Gonzaga, we were greeted with more sand. Despite being just a few hours south of San Diego by road, the landscape rapidly cedes to moonscape and nearly all signs of life disappear. Gigant sandy washes are periodically engulfed by rocky red craigs around which ancient trails wind to and fro. As we began to lose light, we found our way back to the highway and burned another thirty of so miles down to our final destination, the beautiful, desolate beach pictured below.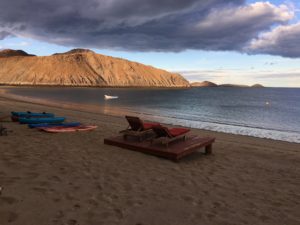 To briefly comment on the state of Baja's infrastructure, Mexico Route 5 is one of two paved roads in Baja. It runs from San Filipe to Punta Final along the Sea of Cortez and is strung with dozens of beautiful bridges spanning sand washes that once required precarious descents in 4WD vehicles. The marble-smooth road is an absolute work on engineering, but in our 60-odd miles on the 5 over the course of this trip, we certainly saw fewer than a dozen vehicles traveling the moonscape. How the Baja government is prioritizing roads to nowhere over whatever else they could be spending their money on is beyond me. That said, motorcycle, car, or rickshaw, I would absolutely recommend a drive down this road. Between high school and college, I traveled from Switzerland to West Africa and the closest approximation to the end-of-the-world feeling that the Mexico 5 gives is the real end of the road in Dakhla, Western Sahara, where the road actually does end and nothing but a sandy path leads travelers to the Mauritanian border a few hundred miles south.
Day Four: Bahia San Luis Gonzaga to El Rosario
This day was a monster. We intended to follow some tracks down to Coco's Corner, another Baja shrine, and climb back to the Pacific coast over series of well-tracked dirt roads, but fuel is a problem in Baja. Despite its proximity to San Diego, the middle of Baja is one of the more remote places on earth. Fuel and settlements are sparse and there was no way to put together a loop to the south with the four gallons we were each carrying. In the best of conditions, we could expect 200 miles of range, but the Baja sand dropped economy by massive, but unknown factors. We couldn't risk running out of fuel, so elected to try an unmapped crossing rather than backtrack all the way up to San Filipe.
The crossing led us to the legendary Rockman Trail–backward. I would highly recommend anyone with some technical inclination to give this one a rip. It was cut by a team of Baja old-timers led by Baja legend Bill Campell who would all spend weeks plotting routing through the mountains via motorcycles, light airplanes, and on foot.  The trail is a work of art that winds from Highway 5 to the ill-named Baja Divide bikepacking route. It is also really hard. Even harder backward. And even harder on a big adventure bike.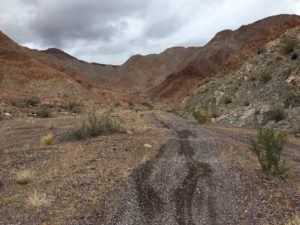 The trail starts out innocuously enough. Instead of taking one of those beautiful highway bridges, you just hop on the old road down the wash and toward the mountains. Rapidly, that road devolves into a series of converging and diverging motorcycle tracks through some of the nastiest gravel I've ever ridden. Unlike sand, upon which a bike just seems to float above a certain speed, pushing through this gravel was a bear at any speed. The throttle had to be pinned just to keep the bike moving. After an hour or so of this punishment, we exited onto the singletrack.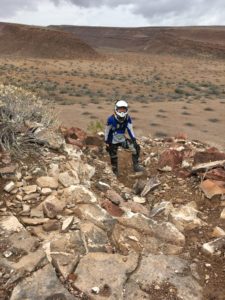 As with the road, the singletrack started easily enough. I know from all of my experience riding, that hopping on a random singletrack, especially when traveling point-to-point on a big bike with lots of gear, may not be the best idea, but we had GPS tracks so we kept pushing. Very shortly after the gravel wash funneled to singletrack, we encountered our first obstacles–a three-foot step-up followed by a tight turn into a nasty rock garden climb.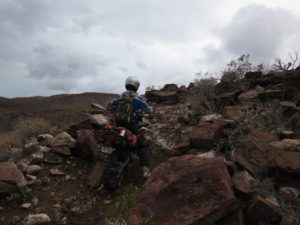 After a bit of manhandling, we got both bikes up and went on our way. At this point, we had burned a few hours, it was pouring rain, and we were still only about 25% of the way to the Baja Divide trail. Uh-oh. It was obvious that this trail would be substantially easier to descend, so we set a target for ourselves to get to the top (2400 feet) as indicated by the topos by 2 PM.
The 360 image above gives a little peak at the lava rock on the Rockman trail. We rode slowly and steadily on this (barely visible) singletrack for hours. Fortunately, just as the minute hand swept 2 (actually more like 2:15, but who's counting), we made it to the top.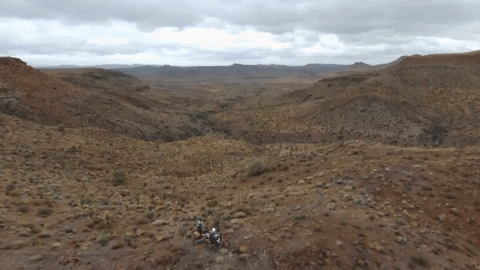 Once there, we promptly collapsed, grabbed a snack, celebrated life, and pulled out the Bebop for a little drone video. We would descend into the valley visible above.
We then gradually emerged from the singletrack into a wash and linked up with the sadistically-named Baja Discovery bikepacking trail. The pioneers of the trail claim that this alternatingly sandy whooped out and devilishly rocky trail is somehow fun for mountain bikers. No thank you. It was, however, an absolute joy with a motor between the legs. Given we were so far behind schedule after our adventure up Rockman's, we twisted the throttle all the was to El Rosario, checked into the beautiful Baja Cactus Hotel, had a great meal at Mama Espinoza's, and went right to sleep before 9.
Day Five: El Rosario to Molina Viejo
After the hell of day four, we planned a little recovery day to get us to Molina Viejo. This didn't happen. The biblical rains that had been intermittently hammering Baja for the entirety of our trip turned the Baja Discovery trail we took from El Rosario to Molina Viejo into a surface alternating between black-ice slick mud and waterlogged motocross loam. While we had a great time following these tracks, I pity the poor bikepacker who tries to embark upon this trip.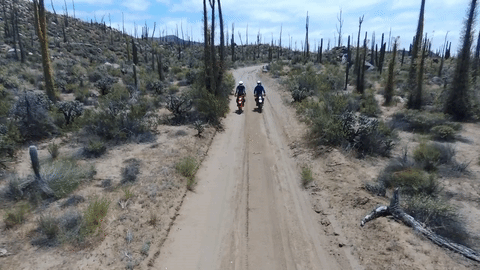 Since we weren't so rushed to get to Molina Viejo and knew that no huge obstacles lay between us and our destination, we had some time to take some fun drone videos.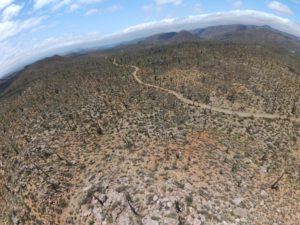 The aerial view gives you a perspective of the terrain on this side of Baja, After a long day of winding through at least eight species of cactus, we arrived early enough to see the sun set over Molina Viejo.
Day Six: Molina Viejo to Ensenada
The final day of our independent adventure took us back to Ensenada for the first day of the rally school. My dad took a little spill on the way in to Molina Viejo, so we stuck to the marked tracks and spent most of the day riding sandy roads parallel to the ocean. I was struck by the cliffs that I managed a 360 photo, a drone scan, and a drone photo.
If only I had a selfie stick to really make this 360 photo pop.
The model shows off a few points of interest. In the midst of scanning the cliffs to build this model, my poor little Bebop got blown out of the air. The wind was blowing at least 25 knots and the battery dropped from 25% to 1% while I was lounging in a ditch and not paying attention to the bird during its autonomous flight (Shhhh! Good thing the FAA doesn't have jurisdiction down here). After spending an hour aimlessly looking for it, my wise father encouraged me to put my GIS knowledge to the test. We knew the center of the survey area and the approximate location at which the Bebop lost connection to my phone. Whipping out the slide rules and log tables on the trail, we were able to pinpoint Bebop's approximate location, which was nowhere near where I was looking. Math >>>> intuition, all day, every day.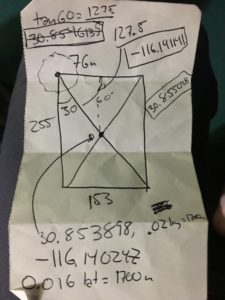 The said treasure map that guided us to the lost drone. Bebop has landed below the cliffs less than ten feet from the lapping tide. I was doubly lucky that I didn't lose my favorite travel drone.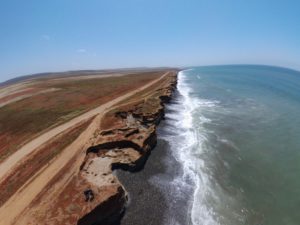 And perhaps triply lucky that I didn't lose this beautiful photo of the cliffs. Shortly after finding the drone, we hopped back on the road and buzzed back to Ensenada. It was time to get ready for Baja Rally School.
Day Seven: Baja Rally School classroom session
I was only vaguely aware of roadbook rally racing before enrolling in Scotty's class. I, of course, knew about Dakar and the Baja 1000, but I thought they were variants of the same thing. They are not. The Baja 1000 is all about cajones. The course is marked and teams just barrel through Baja with the throttle wide open and the fastest man wins. Dakar is a thinking man's race. Dakar racers are challenged to navigate via paper roll charts mounted behind their consoles (that is why rally bikes have those tall towers above the lights) while racing through unfamiliar territoty. Roadbook rally racing is like ski biathalons. It combines two diametrically opposed elements in a super fun and challening manner.
Our day in the classroom demystified all of this. Roadbook rally racing in an old sport steeped in tradition and we learned all of the arcane french abbreviations for the directions, how to use the equipment, and what we would expect in a real rally race. After a lot of learning and lunch with Baja legend Nico Saad, we packed up and headed out to basecamp.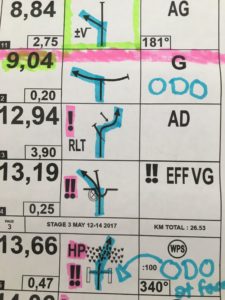 A sample roadbook is above. All of the abbreviations are french from the original Dakar.
Scotty rents this little beach cabin to serve as the field HQ of the school. We set up our tents in his yard and went to bed early to prep for a dawn departure.
Day Eight: Baja Rally School Stages 1-4
The first riding day of the rally school boasted four stages. The first was pass/fail and tested basic concepts. Can you ride reasonably challenging off-road terrain? Can you navigate in a remote environment? Are you a major liability? Ever student passed with flying colors and we moved onto a transfer stage to the night's bivouac. Scotty has built strong relationships with the local ranchers and staged us at a beautiful, private rancho hidden in the hills of Baja. After a quick lunch, we set out for stages 3 and 4, each of which was 30 km or so of absolutely mind-blowing fun. Roadbook rally racing is such a stimulating comination of riding new places, deciphering the tricks of the roadbook, and getting across the finish line first and Scotty did an incredible job simulating a race environment. At the end of stage 4, I wanted to keep riding, but we had to prepare for the final.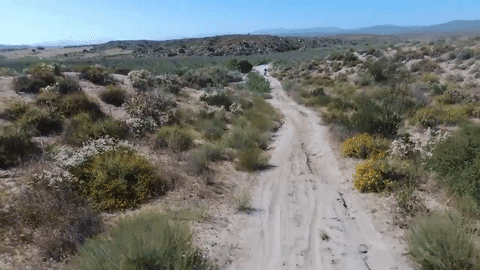 After finishing stage 4, I pulled out the Bebop and grabbed some glam footage. Here, Scotty and the drone joust near the rancho.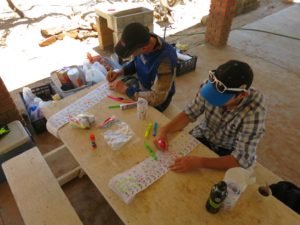 At normal roadbook rallies, riders finish bone-tired and have to eat and immediately begin marking their roadbooks as quickly as possible so they can get as much sleep as possible before a dawn departure. Scotty took it a little easier on us, but here we are preparing for the 75 km stage 5 final exam. Riders try to highlight important directions and memorize pieces of the stage to enable them to stay in ride mode more than navigate mode. After finishing our roadbooks, we cracked some beers and fell asleep to a terrible movie.
Day Nine: Baja Rally School Final Exam
Our last day in Baja was celebrated with a final exam. Scotty lay out a 75 km course back to the HQ that wound through tricky HP sections, diverging sand washes, and a little singletrack. I was too busy racing to get any photos, but my dad and I both graduated and are ready for the real Baja Rally! Thanks to Scotty for a great course and a fantastic introduction to an amazing sport.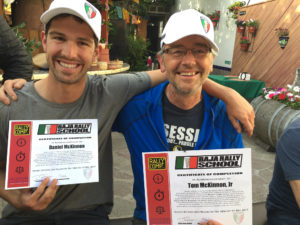 ---
Also published on Medium.