As I've become old and tired, I've gotten far more into dual-sport riding. Seven years ago, I rode the western half of the Transamerica Trail (TAT) with my dad and, while it was just lovely in retrospect, I was frustrated by the lack of singletrack and challenging riding. Now those sentiments are gone and I can appreciate a beautiful vista and relaxed journey for its own sake, as I experienced in Mexico, but I thought it would be cool to put together a killer loop that combined the best pieces of the Colorado Backcountry Discovery Route, the Utah Backcountry Discovery Route, the Transamerica Trail, and whatever other nasty backroads I could string together. What follows is a guide to the best eight-day trip across Colorado and Utah that leaves from Boulder, terminates in Moab, and returns to Boulder more than a week later.
In an attempt to make this trip easier to visualize, I built the map below using Mapbox's platform. I will follow up with a how-to post for others interested in generating the same. I may come back and build more interactivity, the ability to change the basemap from topo to satellite, and other bells and whistles, but, for now, each stage is a color and each marker represents a photo. This was a lot of work to learn how to build this, so I hope you enjoy. The full resolution interactive map is available here, if this window doesn't do it for you.
Also, because apparently I just love technology, I packed a Parrot Bebop 2. What could make a dirtbike trip more exciting than bringing a drone along? I owe my friends at Parrot and enormous thanks for lending me the Bebop and was fortunately able to capture both some incredible images and 3D throughout the trip. I will write up a separate post about touring with a drone and automatically generating 3D models (building Site Scan has ignited a general passion for 3D inside of me) of the scenery using Bebop and Pix4D Capture, but I will just throw a few nice 3D models in this post to whet the taste buds. Below is a 3D scan of some rock spires found midway through Lockhart Basin and a pic of Bebop in action. I did my best to hand catch to keep dust off of the camera lens.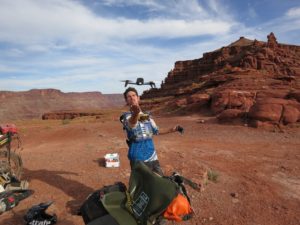 I will also include some aspirational trails that I would have hit along the way if time allowed. I spent 10-12 hours on the bike for most of these stages, riding moderately fast with my dad in tow and really pushing when I was solo. If a reader would like to add some of these extra-credit loops, he should plan on either extra days or pinning the throttle from dawn until dusk.
Day 1: Boulder to Buena Vista
The worst two days of this route are the first and the last. Sorry. There are not a lot of nice off-road options to get out of the Front Range. In fact, there is essentially one, with two variants that you will see on Day 1 and Day 8.
From Boulder, we rode up Magnolia Road to the Peak to Peak Highway. Magnolia isn't particularly interesting, but there is still some fun to be had in the loose corners. The Peak to Peak dropped us into the gambling villages of Blackhawk and Central City. It's really pretty incredible how the formerly wealthiest square mile in the country could be reduced to these places. Of the joys of extraction-based economies. After a dog-leg through Central City, the route drops down to Idaho Springs via Oh My God Road. This was a climb on the Tour of Colorado. I was quite happy to have a motor along with me for the climb back up. In Idaho Springs, we wound our way up to Georgetown, a wonderful historic town with a narrow guage railroad I've always wanted to take, and crossed the divide via Guanella Pass, which used to be an off-road adventure, but has turned into a pedestrian paved road. Shame.
Notably, Guanella provides an excellent view of Bierstad and the Sawtooth leading to Evans. I climbed both a few years ago and it's hard to believe I was all the way up there.
Guanella drops down to 285, from which we passed a few awful miles over highway and graded dirt roads to arrive at the outskirts of the Buena Vista OHV area aka Fourmile Trail Management Area. This is where the fun part really began. While the sun was setting on us, we bounced through whoopy and rocky double track, were treated to incredible scenery, and ended up exiting right at Johnson Village. If we had extra time, I would have spent hours exploring the BV trails. The Latitude 40 map is my favorite for the region.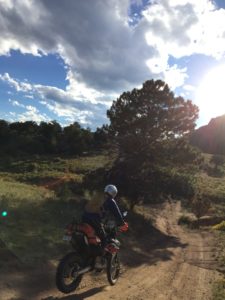 Day 2: Buena Vista to Ouray
The Salida to Ouray day was my favorite of the Transamerica Trail and this one was even better. We left Buena Vista early and climbed out over Cottonwood Pass to Taylor Park. Cottonwood Pass is paved on the east side, but offers some spectacular scenery. We were in a bit of a hurry as we both remembered arriving in Ouray after dark on the Transamerica Trail and wanted to make sure we had plenty of time to descend Engineer's Pass, but there are plenty of opportunities to expand this day to include some incredible singletrack around Taylor Park. If I were to run this trip back, I would certainly tag on an extra day to ride here.
From Taylor Park, we diverged from the BDR to enjoy some nasty FS roads in lieu of the graded main route. If you enjoy rocky climbs, fun whoops, and great scenery, I recommend our path. We wound our way through Pitkin and across 285 to the Great Graded Plateau. This section of the route sneaks through two wilderness areas and involves a hundred miles or so of pinned-at-50 graded dirt roads. Fortunately, we did some exploring and found some nice FS roads that punched through and broke up the monotony.
Eventually, these roads delivered us to Lake City just in time for the only restaurant in town to re-open for dinner. If you arrive in Lake City between 2 pm and 4 pm, you are SOL. After a quick meal at Alice's, we were in for the treat of the day—Engineer's Pass. When I rode this seven years ago on the Transamerica Trail, I said that this was the most beautiful area in Colorado. After riding it again, I might modify that statement with "one of the", but it is still incredible. Lake City to Ouray over Engineer's Pass is a treat that every off-road rider should enjoy at some point in his life. The riding is pretty fun as well with some challenging stairs and step-offs to play on. After burning over Engineer's Pass, we arrived in Ouray right as the sun was setting. I had a near heart attack as I thought I lost Bebop while building a 3D model of Ouray, but she dutifully returned with all of her pictures in tow and we checked into our motel. After some great BBQ and beers on the rooftop of the Ouray Brewery, we went to bed exhausted and ready for day 3.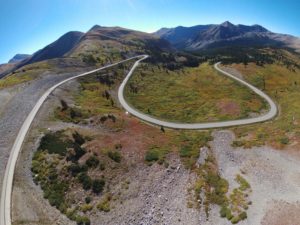 Day 3: Ouray to Blanding
Ouray to Blanding is a monster day. To complete the entire Colorado BDR + Utah BDR + random off-road route, you must be prepared for speed. Out of Ouray, we cross Ophir Pass to, of all places, Ophir, Colorado. I was too busy focused on keeping moving to take a picture, but Ophir is the site of the ridiculous post office I have ever seen. Somehow the town of Ophir, population 164, gets its own post office. And you wonder why USPS has trouble with their budget…
Post-Ophir, we began the gradual transition from mountains to desert. TAT and BRD diverge here and we chose to follow the more interesting BDR route along a river until we found a flowing trail system outside of Cortez that took us all the way into town. All of this exploring set us behind schedule, as always, so we grabbed a quick Subway sandwich (note to readers: I challenge you to find a good lunch spot in Cortez, CO). My dad plotted out an off-road route along Canyon of the Ancients, but, in the interest of time, we opted to burn along the road so we could hit the bottom of the Utah BDR. This was a bad idea. While I have no idea what was up there on the rim of the canyon, I wish I did, despite the beauty of our paved route.
After exiting Canyon of the Ancients, we popped off the paved road into a DIY dual-sport adventure. My dad has a habit of pouring over USGS topos and Google Earth satellite imagery and stitching together a route that ideally punches through. Here, this route took us on a tour of the oil field roads cleared by Reliant Energy on the Navajo Reservation. The riding here wasn't particularly interesting—sandy, semi-graded, windy—but the manmade infrastructure was. As a pair of chemical engineers, we were all about stopping and inspecting the derricks and the midstream plant.
That said, it was hot as all hell and I didn't mind when we popped off the DIY route and onto the Utah BDR, which led us up Butler Gulch all the way to Blanding. While the main route here is essentially just a graded dirt road, the scenery is absolutely spectacular and not to be missed. There are also dozens of spur trails and roads that we did not have time to explore.

Day 4: Blanding to Moab
This stage is the crux of the Utah BDR. The words Lockhart Basin send chills through the hearts of 1200GS riders everywhere. My dad was secretly dreading this stage from the moment we left. Between his experienced friend having trouble on his WR250, my experienced friend claiming it was so easy his sister could ride it, and me claiming I could ride anything that anyone on a 120GS could ride, misinformation was coming from all sides.
But, Lockhart Basin can wait a paragraph. We left our three-bedroom suite in Blanding to burn more than 100 miles on graded dirt roads to get to the southern terminus of Lockhart. While we were treated to some views and some opportunities for interesting riding that we passed up for the sake of time, the morning itself was rather uneventful. My highlight was, what I call, the Stegosaurus rocks puncturing the green canopy of the evergreen forests.
We met Carl in the middle of nowhere near Newspaper Rock, the site of an detailed ancient petroglyph. He was in town for his sister's wedding and joined us for the middle three days of the trip.
The start of Lockhart was uneventful enough—red, graded, flat. Typical Utah. However, things started to slowly get interesting. First, a few little washes to cross. Next, a few little stairs to drop. Soon, Carl and I were racing hooting and hollering through the Utah desert. The KTM is a hell of a bike for this terrain.
Then, crash, I dropped the orange tractor. Wow, I did not expect that. There are actually some tough spots on this route. We kept riding, at a decreasing pace, climbing loose steps, descending nasty ledges, and threading our way between cliff walls. While I would certainly not characterize Lockhart as expert-only, I would not be comfortable riding it on my BM F650GS Dakar and did run into a few tricky spots on the KTM. I have never ridden a 1200GS before, but I imagine this section would be very, very challenging.
After making our way to the end of Lockhart, we climbed up to Hurrah Pass. Carl was generous enough to swap me bike for the rest of the ride, so I zipped right up on his perfectly tuned WR450 (side note: if you know what's good for you, get your suspension tuned by Dale Parriott at Elite Motorcycle Tours). Before the swap, I was convinced that the KTM 690 Enduro was 95% as capable on trails as my old Yamaha WR450F, but, after 5 minutes on the bike, I realized I was sorely mistaken and need to buy a 350 as well. Oh well.
We then descended Hurrah Pass into Moab and checked into Hotel Walker. He conveniently had an Airstream parked in his yard that boarded the three of us in luxury for the next two nights.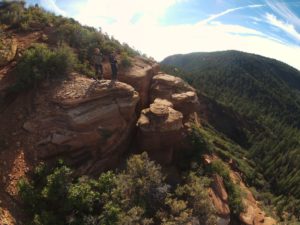 Day 5: Moab to Moab
Day 5 was designated a play day in Moab. I haven't ridden out there since moving to SF and was excited to bounce around the rocks of Slickrock, slide through the sand of Kane Creek, and suffer through the shale of Sovereign.
I had an early press call (I have to follow up with another post on the great coverage Site Scan has been getting), so we didn't get a particularly early start. This is important for later.
Carl was busy with his sister's wedding, so my dad and I climbed up Sand Flats Road to take a spin on the practice loop. Despite its accessibility, Slickrock is no joke and I wanted to give myself a little taste before committing to riding the whole thing on the KTM, which is geared more closely to the interstate end of things out of the box. After a tough loop, my dad and I decided to warm up with Fins and Things before riding the rest of Slickrock.
It was hot. Fins and Things is exposed and rock and sand are reflecting heat right back on to the bikes. My dad's bike had a Rekluse and he is a master of revving the engine.
The south side of Fins and Things was great fun. We decided to continue to the north half, entering at Porcupine Rim. However, I took a wrong turn and we ended up climbing quite a way around the rim. This is the hot, rock-crawling style of riding that really heats up a bike. After suffering enough, we turned around and headed back down Porcupine to Fins and Things. We were having a grand old time racing through the end of Fins and Things, but then my dad's bike stopped. Just stopped. The engine would not turn. It was clear something was seriously wrong.
We were fortunately only a few miles from a spur that would drop us back onto Sand Flats Road, but that spur involved climbing a monster, steep deep sand hill and a few semi-technical sections, neither of which were ideal for a tow. Oh well. Because the sub-frame of the KTM is composite, we towed my dad's WR450 out with Carl's. The tractor didn't even get to shine in its element.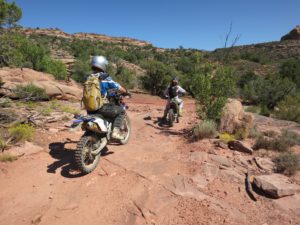 Towing a bike out is not fun. After a frustrating hour or so, we got the bike and all three of us out to Sand Flats road and towed it back to a shop in Moab. Verdict: dropped valve. The bike overheated and the clip holding the top of the valve slipped off, letting the valve drop into the cylinder. Because the bike had a Rekluse, the clutch likely started slipping as soon as resistance was encountered, likely saving the engine. That said, the bike was dead.
It was solemn afternoon of figuring out what to do. The remaining three days of the trip traversed some of the most remote areas of the country. I hadn't ever ridden by myself and haven't ridden much since I moved to SF two years ago. I didn't even know if I remembered how to change a tire.
After some contemplation, I decided to continue on alone. Changed the front and rear tire, walked through all of my tools and parts, familiarized myself with the KTM, and carefully packed to finish on my own.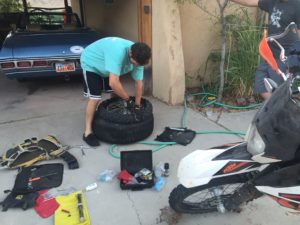 Day 6: Moab to Ouray
With some apprehension and a well-packed bag, I left Moab early on the morning of the sixth day. Carl needed to retrieve his truck back at Newspaper Rock, so we departed together climbing up La Sal pass. This is a super interesting road. On the west side, it is full of waterbars, loose rocks, and tough sections. I wore myself out trying to keep up with Carl and wish I had a steering damper. On the east side, it is smoothly graded. The designation is the same on every map I have seen. I would hate to be the tourist that drives up the east side in a Camry and tries to drop into Moab.
After stopping to take it all in at the Medicine Lakes, Carl and I headed to La Sal to fuel up and part ways. I was on my own through Dolores Canyon and would not see a soul until I reached the outskirts of Telluride well more than 100 miles later.
From La Sal, I followed another one of my dad's DIY off-road routes down to Dolores Canyon. The riding and the scenery were spectacular. I rode everything from slickrock to doubletrack to loose shale as I wound around the rim of the canyon and down to the river. This stage was total solitude. Even after following the Dolores River out to a paced road and back onto Forest Service roads all the way to Telluride, I didn't see a soul until I reached a fishing camp on the outskirts.
There is a ton of singletrack weaving in and out of this route. Given it was my first day solo and there was something eerie about being in such a remote area alone, I didn't play around on any of it, but would love to go back and go exploring.
I was planning on stopping in Telluride, but substantially accelerated my pace after losing my dear father. I got into Telluride around 4 and was having so much fun that I didn't want to stop riding. I remember Carl telling me about a pass that connected Telluride and Ouray, so a quick Google search in a grocery store parking lot told me to fire on over Imogene. What an excellent decision. Imogene Pass is in hot contention with Ophir and Engineer's as the most beautiful in Colorado. The pass winds up to over 13,000 feet before turning back down toward Ouray. While the jeeps take all day to make it over, the entire ride is hardly more than an hour on a motorcycle. I took great pleasure in flying by the tourists having their wild Colorado adventures.
I assumed that I would show up in Ouray and find a hotel. I assumed wrong. The following day there was a footrace over Imogene and every hotel for miles was booked. Whoops. I might be biovaccing it. But, in a stroked of creativity, I called up the local KOA and they had a lovely 3-bed cabin available for only $80. Bacon saved!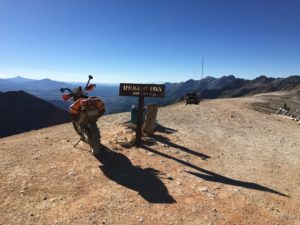 Day 7: Ouray to Salida
I wanted to spice up my return trip a little bit, as I was on my own and could move a little faster. I picked up the Latitude 40 maps the night before and decided to include as much singletrack as possible on the route. I considered the Alpine Trail out of Ridgeway, but wasn't sure how the full-laden tractor would handle 141 alpine switchbacks, so I crossed the divide over Cinnamon to keep things fresh. While I had heard multiple times that Cinnamon Pass was much easier than Engineer's, I'm not totally sure that's true. I didn't even eat breakfast because I thought I would zip right over, but I ended up spending a few hours winding around the Alpine Loop until I made it to Lake City. The riding was incredible and the scenery was beautiful, but do not underestimate Cinnamon Pass.
From Lake City, I essentially retraced my steps through the boring plateau, but caught a fun whooped out section of the Transamerica Trail and added the detour from hell. I unfortunately don't have these exact tracks because I lost my GPS on day 7, but, as a word to the wise, rural roads don't always go through. While exploring, I descended a step-down essentially to the point of no return and was forced to cross the bridge into a swamp that nearly swallowed my bike. I clearly made it out alive, but I wasn't so sure at that point.

After surviving sinking the bike up to the axels in a swamp and getting back on track, I was so excited to get back on a whoopy Forest Service road that I was probably catching a little too much air on the KTM and noticed my GPS was gone once I reached the end. This was not good. I had a plotted an elaborate tour through the labyrinth of Salida's singletrack and there was no way I could retrace that with maps alone.
After riding up and down the suspicious stretch of trail, I could find the GPS. Bummer. Dejected and disappointed, I burned back to 285 and thought about just riding all the way back to Boulder. Until I saw the sign to Marshall Pass. I knew Marshall Pass was on my planned route and if there were a sign from the highway, it couldn't be too hard to follow, right?
I started climbing Marshall and air filled my sails again. I cast aside my moping and was just happy to be on the bike again. At the summit, I saw another sign—Colorado Trail. Why not? I had planned to ride a bunch of singletrack that I thought would be difficult to follow, but there were signs everywhere.
Despite its size, the KTM was eating the Colorado Trail. Buffed out singletrack on a big bike is a hell of a lot of fun. Near the end, where I planned on descending Green's Creek Trail to Salida, I ran into two strong riders on KTM 350 two-strokes. The ultimate woods bikes. I said I didn't know the area and wouldn't mind following them down Green's Creek. And follow them I did. In a memorable hero moment, I kept with these two speed demons all the way down on my bloated touring bike. What a day. From thinking about quitting to sitting on top of the world.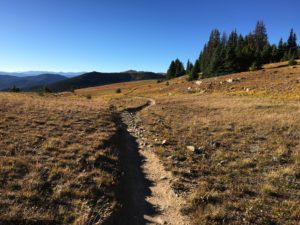 Day 8: Salida to Boulder
I couldn't believe it was the final day of my trip. It was time to go home. And it would be an easy day. Or so I thought.
My dad plotted an excellent DIY route out of Salida and up to Hartsel, but I figured I might as well ride Rainbow Trail before my real departure. This turned out to be more of an adventure than I bargained for.
I have no idea why, but I remembered Rainbow Trail as a smooth singletrack like the Colorado Trail. This is not true. The piece west of 285 is pretty smooth and fast, but east of 285 all bets are off. After conquering a massive step-up, loose climbs, nasty off-camber slopes, and rocky descents, I finished Rainbow around noon, two hours later than planned and totally beat. How on earth was I going to get back to Boulder by 6:30 to have dinner with my mom?
I followed my dad's tracks up to Hartsel and kept running into totally unexpected challenges. The climb out of Salida is actually somewhat technical and it was quite some time before I could open it up (side note: tons of singletrack over there. I would love to explore more.). I plotted an ungraded ride up to Hartsel and got turned around by a State Lands fence.
It seemed like I couldn't catch a break and would never make it home, but I finally made it to 285 and it was packed with traffic. I didn't particularly want to retrace my steps with the weekender crowd coming back, so I decided to minimize highway time and climb over Boreas and Loveland to get me back to the Front Range. I then climbed Oh My God and dropped down to Boulder on Magnolia. Scenic, but paved for the most part. And, after setting what must be a speed record down Magnolia, I pulled up at my mom's house in full riding gear at 6:27. Just in time for dinner.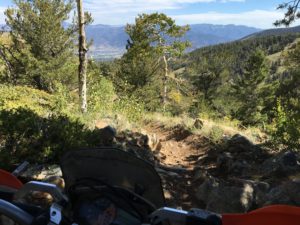 ---
Also published on Medium.