After writing up my tour of Jalisco blog post, I was reminded of the article my dad wrote about our journey across the country on the Transamerica Trail. Download the Adventure Motorcycle magazine article here or feel free to flip through the viewer below.
TL;DR: Between college and graduate school my dad and I rode a few thousand miles off-road between Colorado and Oregon on the Transamerica Trail. It was the experience of a lifetime that I would highly recommend to any motorcycle enthusiast.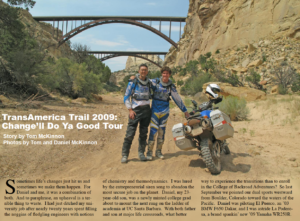 ---
Also published on Medium.