I just returned from an amazing 8 days in Thailand. While I expected 8 days to be pitifully inadequate to explore someplace halfway across the world, we jammed an awful lot into that short trip. Totally fortuitously, we ended up seeing many of Thailand's gems and skipping many of her blemishes without any foresight or planning. That said, I would highly recommend this itinerary to anyone headed to Thailand for a short jaunt.
The trip came about because my travel companion, Jeff, wanted to meet a few friends over there after they finished up a work assignment in Australia and I wanted a second jaunt to celebrate all the hard work that went into launching Site Scan. While our dates didn't line up for the entire trip, we were able to overlap for a day in Bangkok, so that's where we began.
Bangkok: 05/03-05/04
We arrived in Bangkok at around midnight (minor sidenote: our flight was $650. How is is cheaper to fly to Thailand than Mexico?) and headed directly for our hotel. We stayed in a strange part of town near the embassies at a international hotel chain. I would not recommend this as we ended up with horrendous 45 minute long Tuk-Tuk rides to and fro, but this decision was out of my hands. Miraculously, given the jetlag or excitement of being in Thailand, we woke up at 6 am the next day and got straight to being good tourists.
Bangkok, 6am, 05/03
Bangkok is laid out around the Chao Phraya River and many of the tourist sites of note are positions on the banks. We took one of the said horrendous 45 minute Tuk-Tuk rides to the southern side of the river and began our touring. Chinatown sits on the southern edge of the center of Bangkok and we wandered through various alleys and side streets. I unfortunately didn't take any pictures, but I found it so interesting that half of the district seemed to be preoccupied with repairing old auto engines. Next to a row of a dozen stalls cleaning blocks was a row of stalls polishing cylinders next to a row of stalls adjusting valves next to a row of stalls aligning driveshafts and so on. It was like all of Detroit's sprawling robotized assembly lines were distilled down to a manual concentrate dropped into the middle of Bangkok. I simultaneously impressed by the ingenuity of all of these laborers repairing complex objects with simple tools (no way in hell would I tear and engine down to the block without a full shop) and puzzled by why a good 100 block chunk of Bangkok was devoted to repairing engines. What were these people in Bangkok doing to need so many engines? The answer would come while exploring the Andaman Sea.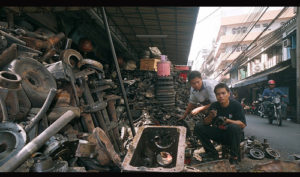 This image was shamelessly stolen from someone else's travel blog, but shows on of the Chinatown engine shops.
Bangkok, noon, 05/03
After wandering around the southern edge of the center of Bangkok for the morning, we got going with our Wat and Buddha tour. Bangkok is absolutely chalk-full of Giant Buddhas, Reclining Buddhas, Sitting Buddhas, Standing Buddhas, and Buddhas in nearly every other position imaginable. We saw all of them. No real reason to rehash all of the running around Bangkok, but TL;DR the highlight was taking the river boat up and down the Chao Phraya River and hopping on and off to see the sites.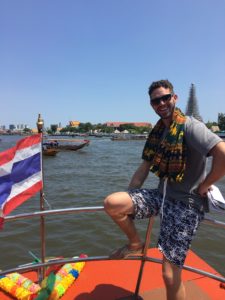 Me at the bow of the Bangkok river boat. Notice the Wat spire being repaired over my left shoulder. This is Temple of Dawn.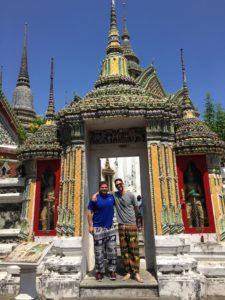 Jeff and I under one of the gates at the Wat housing the massive Reclining Buddha, which is a must-see in Bangkok.
Bangkok, night, 05/03
After visiting every site we could find on the tourist map, it was time to kick back and have a few drinks. Khaosan Road in Bangkok seems to be the capital of Southeast Asian backpacker culture. It is overrun, in a good way, I think, with tourists from all over the world who make their pilgrimage here to plan the next leg of their trips, share their stories, and have a grand old time. Only on Khaosan Road, you can eat fried scorpions, get 3 am foot massages, and witness a melting pot international block party that will blow your eardrums out. A night out here is highly recommended.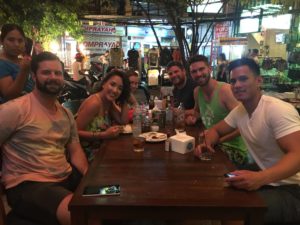 Our crew out at dinner. We learned very quickly that food in Thailand is good. Everywhere.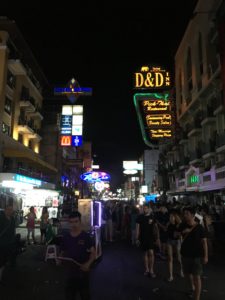 Khaosan Road at night. This photo doesn't even come close to capturing the magnitude of the party.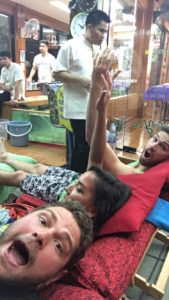 3 am foot massages are highly recommended. Beginning that night, we made it an objective to get massages every day in Thailand.
Patong, Phuket: 05/04-05/05
Patong really doesn't even deserve much of a mention, aside from the fact that it is one of the most disgusting places on the planet. I would highly recommend a visit for the sake of putting a human face on the evils of the sex industry, but you will not have fun here. We stopped through for a quick night for logistical reasons and to meet the one and only Pete Ryan. The next day we left bright and early for Phi-Phi Island.
Koh Phi Phi Don: 05/05-05/08
Koh Phi Phi Don, or Phi Phi Island, is the largest of the Phi Phi islands. It supposedly used to be a sleepy paradise for hippies backpacking across Southeast Asia, but is now a booming tourist hotspot. On and off Phi Phi you will find beautiful snorkeling and diving, abandoned beaches, jungle hikes, wild parties, delicious food, and lots of fun. We spent two nights here and I would recommend the same to other travelers.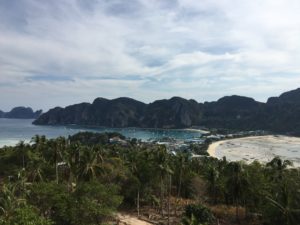 View from the top of the viewpoint on Koh Phi Phi. It's a bit of a hike to get to the top, which strangely deters 90% of the tourists on the island, but well worth the view.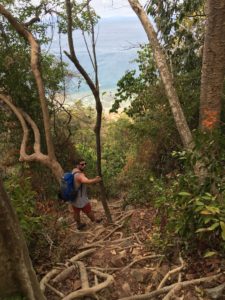 Jeff and I hiked over the top and down to Rantee Beach. Sperry Topsiders were not the ideal footwear for the slippery jungle trail.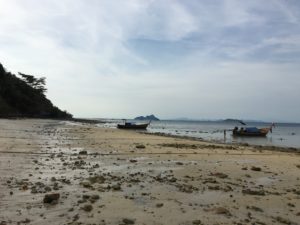 Rantee and the other beaches on the far side of Koh Phi Phi were absolutely abandoned. Fortunately, as we were famished after the hike, we convinced a restaurant to open for us and make us the best Pad Thai on the trip. Unfortunately, or perhaps fortunately, they only had beer to drink and he had a lot of rehydrating to do.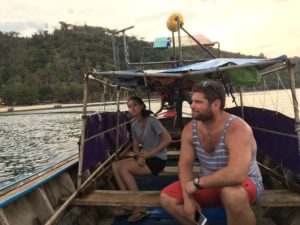 Luckily we were able to flag down a Longtail to bring us back home as it would have been a hell of a hike after getting out fluids replenished. We very quickly became very familiar with the Longtail boats that consume all of Bangkok's Chinatown handiwork with the motors.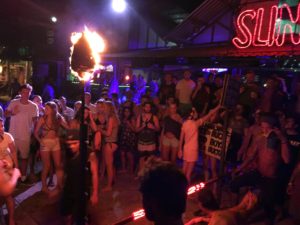 Koh Phi Phi is also famous for series of fire parties along the Loh Dalam Bay, on the north side of the isthmus (right side in the photo from the viewpoint). A limbo contest is pictured, but shortly afterward Jeff convincingly dominated en fuego musical chairs.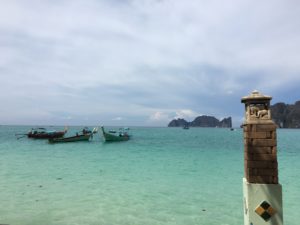 Phi Phi is absolutely beautiful. A view from breakfast overlooking Phi Phi Leh (the island in the distance) and Ton Sai Bay (to the south of the isthmus, left in the viewpoint image).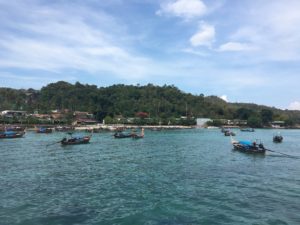 And the view from the other side from our boat headed toward Phi Phi Leh.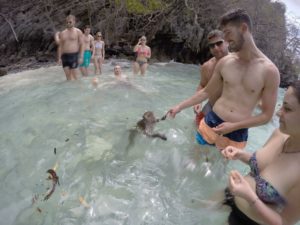 I made a friend at Monkey Beach en route to Phi Phi Leh, the smaller island visible from breakfast. Tourist boats have been coming here for so long and feeding the monkeys that they have become sadly domesticated. It was probably not the smartest move to partake as another on our boat sadly received a real-life monkey bite and I know my wildlife biologist friends would be aghast, but when in Rome…
Koh Lanta: 05/08-05/09
After three days on Phi Phi, we hopped on the ferry over to Koh Lanta. These two hour ferry rides became oddly therapeutic. After touring hard at each destination, we always would have a few hours to unwind, watch the world go by, and meet other travelers on the boat.
Koh Lanta was much sleepier than Phi Phi and I really wish we had more time there. It is quite a large island with a relatively bustling northern and a mellow southern half. The island is dotted with national parks, trails, caves, beaches, and all kinds of secrets. I recommend renting a scooter and just exploring.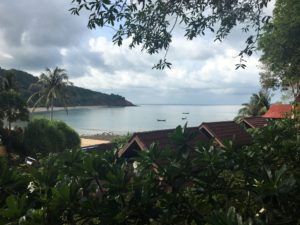 View from our villa in Koh Lanta. Amazing what $50/night gets you in Thailand.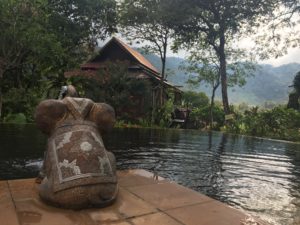 They even threw in a couple elephant fountains overlooking the infinity pool.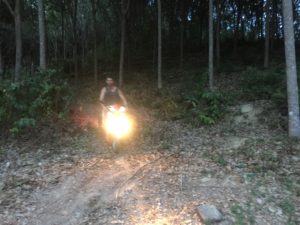 One of the highlights of the trip was riding singletrack on scooters through the jungles of Koh Lanta. I could have stayed here for a few days to explore every last inch of trail.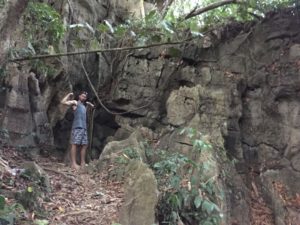 At the end of one of these trails, we found a hiking trail. At the end of the hiking trail, we found a cave.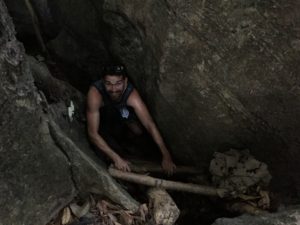 The cave was a little scary, but we dipped our toes in.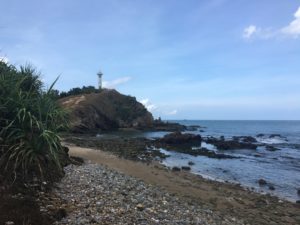 A beautiful national park exists at the southern tip of Koh Lanta. Rocks, beaches, a nature trail, and an old lighthouse are all on display.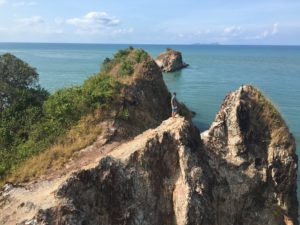 Gorgeous rock spires over the ocean define the islands scattered around this part of the Andaman Sea.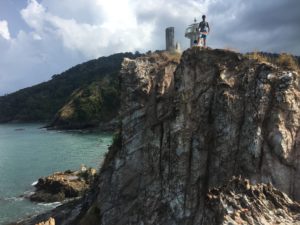 The diagonal lines cut into the cliff below me are metallic (iron, I think) deposits that crystalized out during some geological event. They like nothing I've ever seen before.
Railay: 05/09-05/10
After a far too short stay on Koh Lanta, we grabbed the ferry to Krabi, which serves as the access point to a number of beach towns back on the mainland. We had heard wonderful things about Railay from a number of other travelers we met on the road, so grabbed a Longtail over as soon as we docked.
Railay did not disappoint. It is an interesting little peninsula accessible only by boat that hosts three beautiful beaches, dozens of famous climbing routes, a number of jungle trails, and plenty of relaxing beachside restaurants.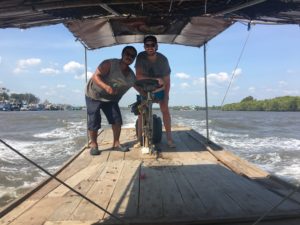 I piloted our Longtail from Krabi to Railay. Great fun, but actually quite challenging to hold a course in the choppy water because the hull is so flexible. After a successful first run, I am considering giving up my day job at 3DR and becoming a Longtail captain in Thailand.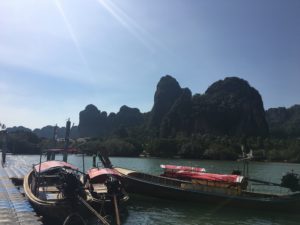 We were greeted to this beautiful vista after my rather alarming Longtail parking job at the Railay pier. These spires are world famous among rock climbers looking for the climbing gym experience outside. Massive jugs get eroded from their faces, letting even novice climbers play with vertical and slightly overhanging faces.

Beautiful pano of Railay Beach West.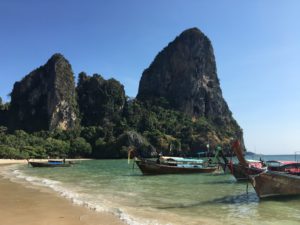 Longtails moored on the west side.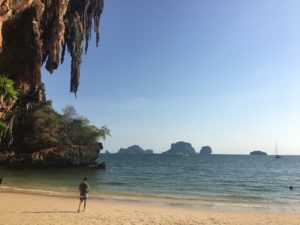 Cave beach is a short walk from town and well worth it. There is a shrine to fertility here full of penis sculptures, a few caves you can swim to, and an island across the bay with its own cave and beach.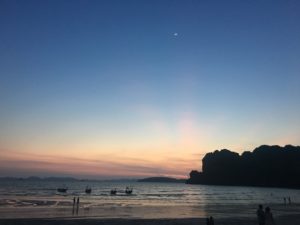 Sun setting on the last night in Thailand. See you again soon!
---
Also published on Medium.