For my 30th birthday, I flew down to Puerto Vallarta (all the cool kids just drop the Puerto, so I'll follow suit) to ride the Four-day Adventure Tour with Bike Mexico. Due to a little chaos with the Site Scan launch and my dad's recent return from Panama, the trip was planned at the absolute last minute. We had no idea what we were getting into. Fortunately, everything worked out beautifully. Jurgen Dano was a fantastic host, giving us the opportunity to ride beautiful terrain in rural Jalisco and visit historical Mexican villages.
We covered almost 1,000 km of mostly dirt roads (sadly no single track) and ran a nice little figure-eight through Jalisco. An interactive map of our GPS tracks is available here for those who would like to follow along.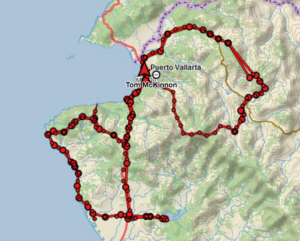 The first leg (Day 1 morning)
Our first leg took us from Vallarta to El Cuale, which was once a very rich town that served as one of the silver mining capitals of Mexico. Its population once numbered in the tens of thousands and spurned the Genghis Khan approach to riches (at one point in history, Genghis was the wealthiest man on earth but left nothing behind). Rather than extract wealth and move on as happened throughout my home state of Colorado (please visit Leadville today and tell me you could recognize it as one of America's wealthiest towns in the the late nineteenth century), the early El Cualens built a massive cathedral, beautiful cobbled streets, and a stone and brick structures that will stand the tests of time. However, this once glistening town is now inhabited by only a few hundred residents employed mostly in the agriculture whose relatively modest means starkly contrast what once was.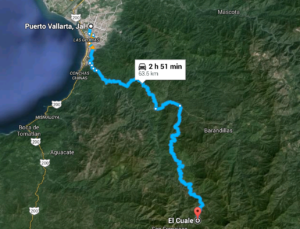 Google Earth's directions from Vallarta to El Cuale should provide a general sense of context.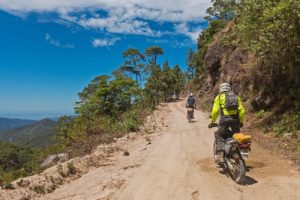 Google Earth's directions from Vallarta to El Cuale should provide a general sense of context.
A nice view of a village we passed along the way.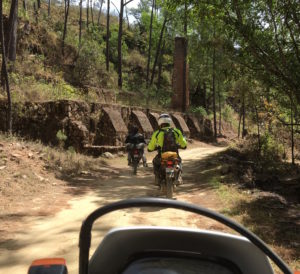 The ruins of this old mill hint at El Cuale's industrialized past.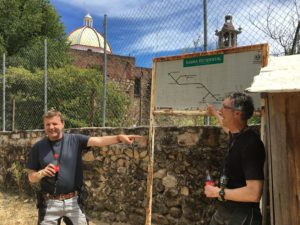 My dad and Jurgen posing in front of a map of the region. Notice the El Cuale cathedral dome in the background.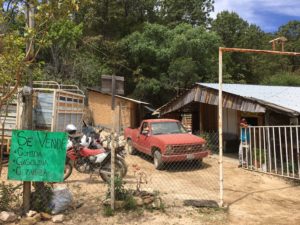 The only restaurant in El Cuale resides in a nice woman's house. She opened her door to us, made tortillas on a wood-fired stove, and served up one of the most incredible meals I had in Mexico. It's pretty amazing to think that this village was at one point one of the wealthiest in the country.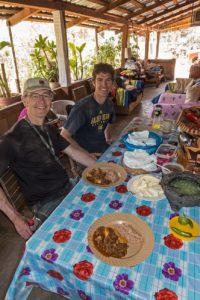 Here we are eating lunch. I wish I could have another round right now.
A few more shots of the El Cuale cathedral. Due to the topography, it was difficult to get a single good shot, but the building is massive and solidly constructed. This would be a mid-eight figure construction project these days.
The second leg (Day 1 afternoon)
The second leg took us from lunch El Cuale to Talpa de Allende, another formerly very wealthy silver mining town where we would spend our first night. Unlike El Cuale, Talpa has reinvented itself as a destination for pilgrims, who flock to Talpa from all across Mexico, some on their knees, to pay their respects at the Our Lady of Talpa Church, another massive cathedral in the middle of the Jalisco mountains. Beyond the cathedral, Talpa looks and feels like any old town in Spain from the beautiful central square to the characteristic blue street signs affixed to old stone buildings.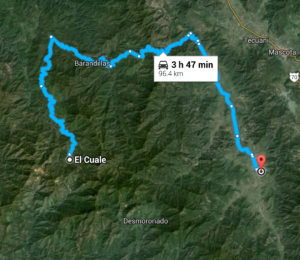 Google Earth doesn't know about the route we took, but this map gives an approximate sense of geography. In reality, we rode a fairly nasty, ungraded mining road directly over the mountains from El Cuale to Talpa.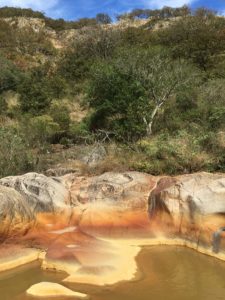 This was the only photo I took on this leg, as the riding was fairly challenging. All of the mining in the area turned many of the rivers into superfund sites that appear incapable of supporting life.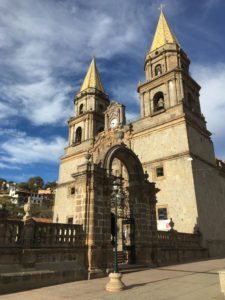 A stunning view of the Talpa cathedral. Not many towns of 13,000 can lay claim to a monument like this one. This cathedral anchors the local economy, which is built around hosting and serving pilgrims. Nearly everything related to the Catholic church in Mexico requires payment. One must consider what kind of development and infrastructure projects could be funded if the money went toward a broad public good rather than erecting tributes to Catholicism…
The third leg (Day 2 morning)
After spending our first night on tour, in a lovely pilgrim's hotel in Talpa, we set out toward Mascota, a little town that was fairly unremarkable aside the fact that fact that it hosts not only a finished cathedral, but an unfinished one as well. I'm not entirely sure what the logic was behind building a second one mere blocks away, but they never got around to finishing and likely never will.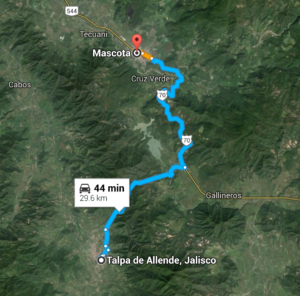 We ended up riding some additional loops through the mountains, but, aside from those, this Google Earth route is approximately correct.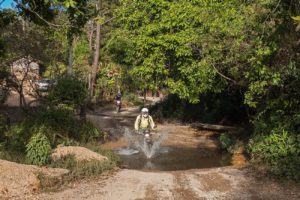 A nice water crossing shot in the midst of a village we passed through.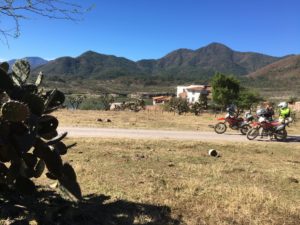 Midmorning break at a lakeside restaurant after finishing up some of the most interesting riding of the trip. The doubletrack was driven infrequently enough that I could nearly pretend the second track didn't exist.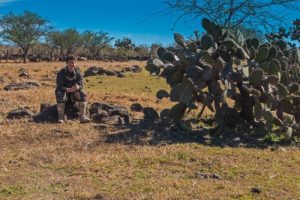 Same place, same time. View through Jurgen's lens.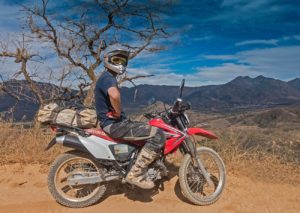 Taking a break in front of a magnificent vista.
We were not too far from the town of Tequila and stumbled upon fields and fields of agave.
We emerged from riding a few hours through the jungle and discovered a luxury resort build by a Vallarta developer tucked away in the mountains of Jalisco. It was complete with an all-white horse-drawn carriage, a tree painted orange, a lake full of paddle-boats, and everything else you'd expect from an idyllic, WASPy, East Coast summer camp.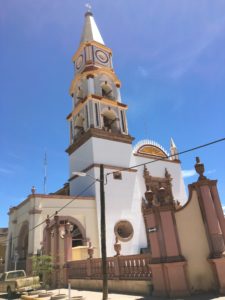 Mascota cathedral #1.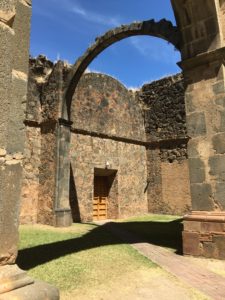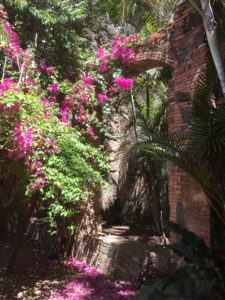 The ruins of the unfinished cathedral several blocks away. Very little information was available about this site, but the ambitions were grand.
The fourth leg (Day 2 afternoon)
After lunch in Mascota, we rode north, to San Sebastian del Oeste, a picturesque mountain village that has been designated a Pueblo Magnifico by Mexico's Secretary of Tourism. Even despite the nice journey to get there, the destination is quite pleasant and ranks as my favorite stop in the Jalisco mountains. A highlight that did not get captured by a photo involved riding motorcycles across the deck and through the courtyard of the little pension that hosted us for the night because the owner wanted us to keep our bikes safe behind locked doors.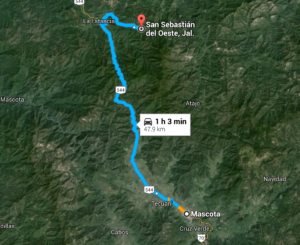 This leg of the voyage was mostly on cobbled roads through the mountains.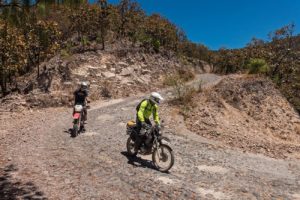 Beautiful riding through the Jalisco hills.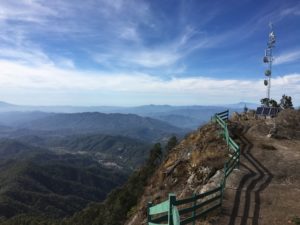 Once we got into San Sebastian, we began exploring the environs. This cell phone tower sit atop the highest peak in the region, which received snow and hail the prior week. From the top of this peak, the high rises on the beach in Vallarta are visible.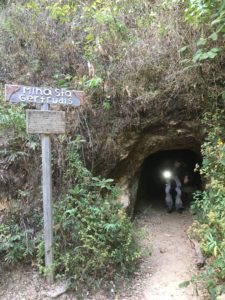 After descending the mountain, we headed up another to explore an old mine shaft. I know they tell you never to do this in Boy Scouts, but exploring the old tunnels was irresistible.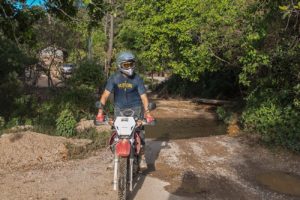 Me on the way back to town from the mine. My favorite technical challenge of the trip was riding over that little single track bridge visible at right in the photo.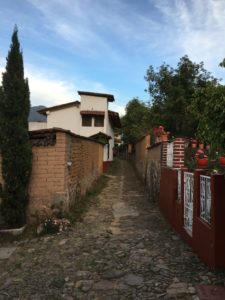 A cute little alley in San Sebastian. The entire town seemed abandoned when we got there aside from an Italian restaurant spun up to serve ex-pats and a michelada bar on the main square that consistently was devoid of more than a couple customers.
The fifth/sixth leg (Day 3)
The fifth and sixth legs took us south, back through Vallarta, and beyond to a little resort in the middle of nowhere called El Cielito. This was the best day of riding. We rode twisty highways from San Sebastian down to Vallarta and explored unmapped roads on which we say nary another internal combustion engine but a plethora of cowboys on horses. Jurgen's typical trip takes a more standard route from just south of Vallarta to El Cielito, but we all decided to scout out a new route.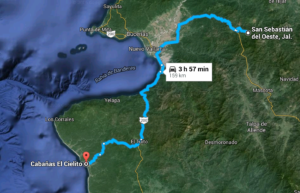 This time Google Earth leads us quite far astray. We hugged the coast for much of this leg.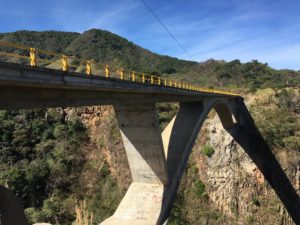 The only photo I took during the highway portion of the day was of El Progreso bridge.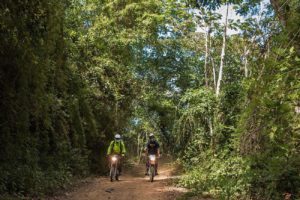 Over the course of the day, the flora transitioned from alpine scrub to jungle.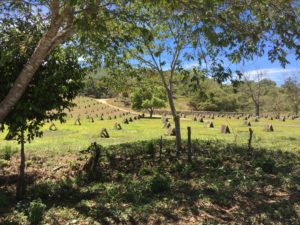 All these curious little structures out in this field are rooster houses. Apparently this farm raises cock fighters.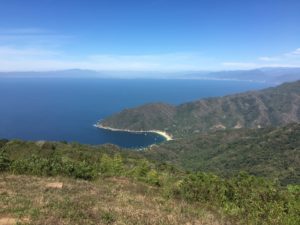 This beach belongs to the town of Yelapa, which sits at the south end of the Bay of Banderas. It looks like paradise as far as I am concerned as is only accessible by boat or by the nasty dirt road we were riding. To my left is a paragliding take-off pad so tourists can fly back down to town. Sounds like something I should do next time around.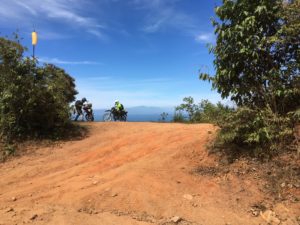 Leaving our vantage point over paradise. Notice the wind sock for the hang gliders.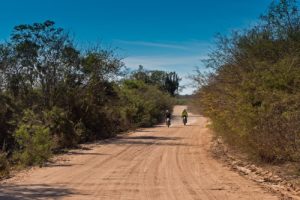 Burning through the desert to make it to cold beers and hammocks at El Cielito.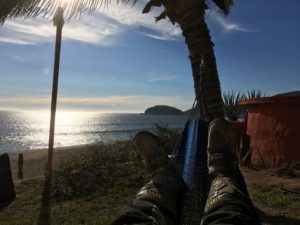 After the longest day riding, we made it to El Cielito just in time for sunset. Nothing like relaxing in a hammock with a cold beer as the sun sets over the Pacific.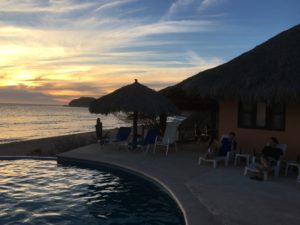 Jurgen outdid himself with lodging on the last night. Infinity pool overlooking the beach? Yes, please. Remarkably, there was only one other party sharing the compound with us. When I return to Vallarta, I will absolutely make the trip back down here.
The seventh leg (Day 4)
After three relatively hard days of riding, Jurgen decided to give us a break. We slept in, kayaked around the inlet, lounged in the pool, and pushed off around 11 am to return to Vallarta.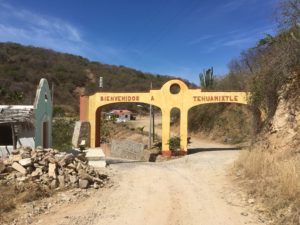 Before we pointed our bikes back home, we visited a little fishing village with an interesting entryway.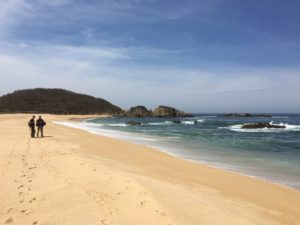 And an empty sandy beach that stretched for miles in either direction. Not quite Sayulita!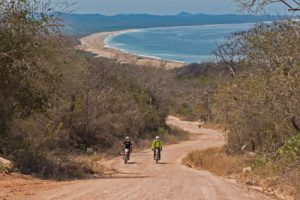 Finally it was time to climb out of our hidden little bay and motor back toward Vallarta. Huge thanks to Jurgen and my dad for taking me on this amazing trip. Looking forward to the next time I can get down south.
---
Also published on Medium.