Last spring, my dad and I spent ten days dual-sport moto riding down in Baja, curiously following pieces of the Baja 500 and 1000, the San Felipe 250, the Baja Discovery Trail, and various other tracks we scrapped from hidden corners of the internet. The highlight of the trip was our monster day four where we crossed from Bahía San Luis Gonzaga, on the Sea of Cortez, to El Rosario, just miles up an inlet off the Pacific. We were planning on traveling south from Bahía San Luis Gonzaga through Coco's Corner, the legendary mid-peninsula off-road refueling station, and back up to San Quentín, but the distances between fuel stops edged dangerously close to the range of our KTMs as equipped. Legend has it the Coco's and some of the fishing villages along the way sold gas, but we didn't want to push our luck. That said, there was really no confirmed routed over the mountains between the Coco's south passage and returning all the way north to San Felipe. Dreading a long cruise back up the road, we elected to follow the lone track that cut right through the middle.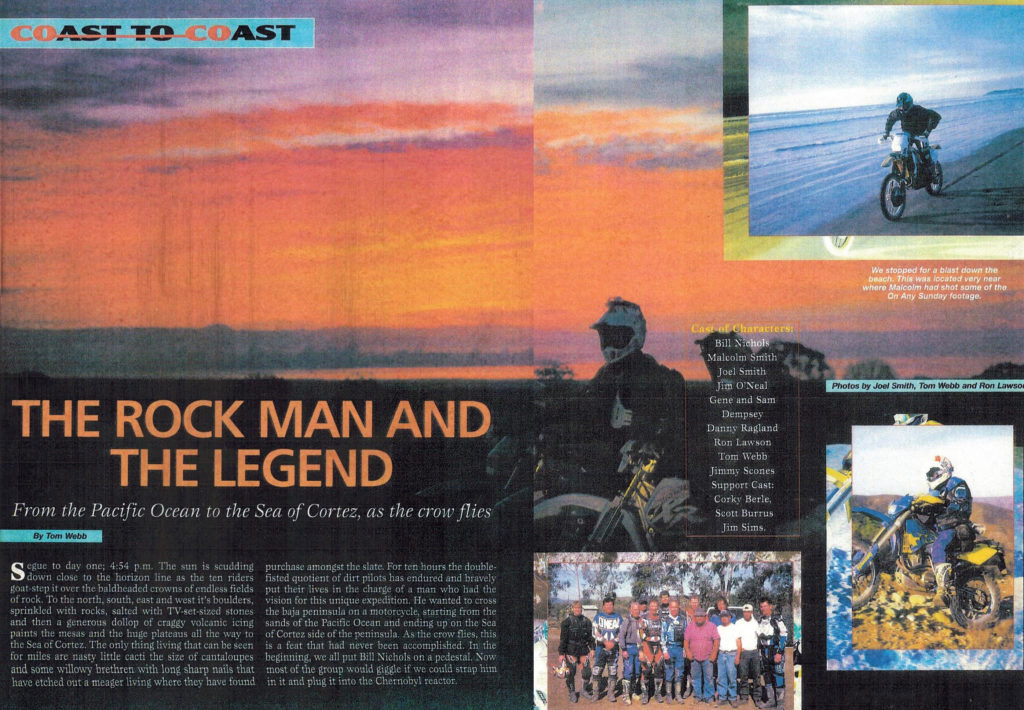 At Baja Rally School, we later learned the legendary status of the Rockman Trail. We learned how Baja legend Bill Nicholas solicited explorers to connect Bahía San Luis Gonzaga, home of the one and only Malcolm Smith, to San Quentin after years of planning and aerial surveys. We learned how minimally trafficked the passage was and how that trail represents a piece of Baja off-road history. After we returned, I posted my trip on Adventure Rider. Six months late, Bajaturtle shot me a message letting me know he had an old magazine article that described how the trail was built. What follows is that magazine article.
In May 2000, Dirt Bike published an article recounting the first expedition to pioneer a center route across the Baja. Normally, I would never republish someone else's words without permission, but the original text of this article cannot be found anywhere on the internet, Tom Webb's writing is quite poetic, and the story has special meaning to me having recently followed the trail of these adventurers.
The Rock Man and the Legend
From the Pacific Ocean to the Sea of Cortez, as the crow flies
By: Tom Webb
Segue to day one; 4:54 p.m. The sun is scudding down close to the horizon line as the ten riders goat-step it over the baldheaded crowns of endless fields of rock. To the north, south, east and west it's boulders, sprinkled with rocks, salted with TV-set-sized stones and then a generous dollop of craggy volcanic icing paints the mesas and the huge plateaus all the way to the Sea of Cortez. The only thing living that can be seen for miles are nasty little cacti the size of cantaloupes and some willowy brethren with long sharp nails that have etched out a meager living where they have found purchase amongst the slate. For ten hours the double-fisted quotient of dirt pilots has endured and bravely put their lives in the charge of a man who had the vision for this unique expedition. He wanted to cross the Baja peninsula on a motorcycle, starting from the sands of the Pacific Ocean and ending up on the Sea of Cortez side of the peninsula. As the crow flies, this is a feat that had never been accomplished. In the beginning, we all put Bill Nichols on a pedestal. Now, most of the group would giggle if we could strap him in it and plug it into the Chernobyl reactor.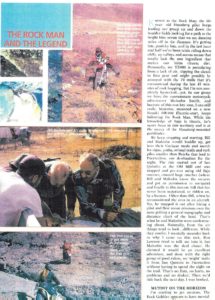 Known as the Rock Man, the 60-year-old Husaberg pilot keeps leading our group up and down the boulder fields looking for a path to the bright blue ocean that we see dancing miles off in the distance. It's getting late, panicky late, and in the last hour and half, we've been trials riding down cliffs, up valleys and across mesas that totally lack the one ingredient that makes our loins churn; dirt. Personally, my YZ400 is percolating from a lack of air, slipping the clutch in first gear and might possibly be annoyed with the 79 stalls that it's encountered during the last 45 minutes of rock hopping. But I'm not completely hysterical…yet. In our group, we have the consummate motorcycle adventurer Malcolm Smith, and because of this one key icon, I can still smile. Malcolm, mounted on a new Suzuki DR400 Electric-start, keeps following the Rock Man. While his knowledge of Baja is titanic, he's never been in this territory and is at the mercy of the Husaberg-mounted pathfinder. We keep stopping and starting. Bill and Malcolm would huddle up, get into their Cochese mode and search for signs, paths, animal trails and rock piles smaller than Buicks that lead to Puertecitos, our destination for the night. The ride started out of San Quintin at the Old Mill and was mapped and pre-run using old Baja courses, crossed huge ranches ( where Bill and Malcolm know the owners and got us permission to navigate), and finally to this intense hill that has never been negotiated, or ridden on, by a human. Other than Bill, when he reconnoitered the area in an aircraft. Yes, he mapped it out after hiring a pilot and flew recoil missions over the zone getting a general topography and distance chart of the land. That's what lie and Malcolm were conferencing about. Naturally, from the air things tend to look…different. While they confer, I mentally meander hack to why I came on this trek. Ron Lawson tried to talk me into it, but Malcolm was the deal closer. He claimed it would be an excellent adventure, and done with the right group of good riders, we 'might' make it from San Quintin to Puertecitos without having to spend the night on the trail. That's no flats, no hurts, no problems and no dinkin'. Then we'd ride back the next day. I was hooked.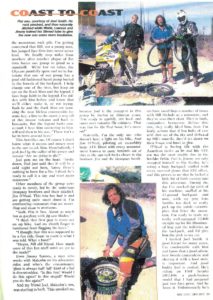 Mutiny on the Horizon
I'm starting to get anxious. I'm getting concerned that Bill, not a young man, has jumped face first into never-never land. We finally stop miles from nowhere after another plague of flat tires forces our group to grind to a standstill. We're low on tubes, the CO2s are painfully spare and we're fortunate that one of our group has a good old fashioned hand pump buried in the bowels of his backpack. I help change one of the tires but keep an eye on the Rock Man and the legend. I have huge faith in the legend. I've ridden with Malcolm before and know that we'll either make it or rot trying. Both he and the Rock Man are scanning the near lifeless countryside for some key, a line to the coast; a way off of this insane volcano and back to humanity. But the legend looks concerned; I hear him muttering to himself and then to his son, "There isn't a lot to burn around here."
This horrifies me. Of course, I don't know what it means and mosey over to the son to ask him. Nonchalantly, I grab Joel by the collar of his jersey and scream "Are we going to die?"
Joel pats me on the head. "Settle down, Dad just said that it will be a cold night out here, 'cause there's nothing to burn for a fire. I think he's ready to call it a day and start again tomorrow."
Other members of the group were ready to revolt, led by the notorious Dempsey brothers and their sidekick Jim O'Neal. This trio has had it and is getting quite vocal about it. I'm overhearing comments that are unsettling and close to mutinous.
"Yeah, this is fun. About as much fun as gargling with jig saw blades."
"I think that first gear is worn out on my bike. And my clutch finger is butchered from flagging the lever."
"I thought that this was supposed to be a fun ride. Coast to coast is what I was told. What a hoot!"
"Heyya, Bill old friend. How much more of this fun stuff until we get to the roads?"
Even Jimmy Scones, a man who works with Malcolm on his adventure rides and who's the consummate `glass is always half full' kind of a lad is downtrodden. "Is this fun? Would I do this again? Is this stupid? Would you do this again?"
And my friend Joel, Malcolm's son, was starting to bark. This spooked me because Joel is the youngest in this grown by twelve or thirteen years. "I'm ready to upshift, not hack and snort over volcanic file cabinets. That was fun for the first hour; let's move on!"
Naturally, I'm the only one who doesn't have a light on his bike. And Jim O'Neal, piloting an incredibly large ATK fitted with every accouterment known to man, reminds me of this as the sun tick-tocks closer to the horizon. Jim and the Dempsey brothers have raced Baja a number of times with Bill Nichols as a teammate, and they've won their class. They're buds, compadres, hermanos. Before this ride, they really liked him. Now I'm fairly certain that if hot bolts of raw acid shot out of the sky and slithered up Bill's nostrils, they'd get down on their knees and howl in glee.
O'Neill is hating life with the American fueler as he and his ATK are not the most nimble duo in the boulder fields. Fact is, Jimmy not only, strapped himself to Big Bertha, he's toting a huge backpack stuffed with every survival gismo that REI offers, and this proves to me that he lacked a little hit of faith coming into this adventure. During the day I've mocked the girth of his machine, scoffed at his 45-pound backpack and now, with my gray lens Smiths too dark to really pick up the subtle catastrophes that litter the moon-scape, I'm ready to trade my really well-equipped Y7A00 straight up for his illuminated hog and the toiletries in the backpack, and I'd give him the pink to my car.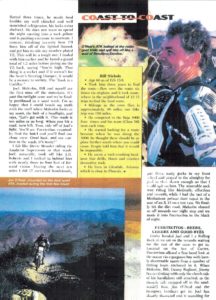 I invited Joel Smith. A good friend for many years, I'm comfortable with him and know that a good adventure breeds camaraderie and sharing it with a hoot mate is important. And good buddy Joel is cooked. He's riding an Suzuki DR 7A00. a push-button model that I had prepared just two days prior. And he loves it. Unfortunately, he's flatted three times, he needs food (unlike my well chiseled and well-nourished refrigerator, his lacks extra shelves). He does not want to spend the night snoring into a rock pillow and is pushing everyone to motivate. I concur; thinking secretly how I'll force him oil' of the lighted Suzook and get him to ride my number-plated YZ. This will be a tough nut; I traded with him earlier and he lasted a grand total of 1.2 miles before giving me the YZ hack, saying "You're high. That thing is a rocket and if it weren't for the Scott's Steering Damper, it would be a menace to society. The 'Zook is a Cadillac."
Joel, Malcolm, Bill and myself are the first ones off the mountain. It's past the twilight zone and we're finally purchased in a sand wash. I'm so happy that I could brush my teeth with the stuff when Malcolm looks at my scoot, the lack of a headlight, and says, "Let's get with it. This wash is ten miles or so long. When you hit a road, turn left. Tom, ride off of Joel's light. You'll see Puerteeitos eventually; Find the hotel and you'll find our chase crew. Good luck, and use caution in the wash, it's nasty!"
I fell like Stevie Wonder riding the Anaheim Supercross in that wash. Joel, naturally, took off like J.N. Roberts and I tucked in behind him with nearly three to four feet of forward vision. During the next ten miles, I did 17 awkward handstands, put three nasty gorks in my front wheels, and prayed to the almighty for Joel to slow down enough so that I could spit on him. The miserable sack was riding like McGrath; effortless and smooth, while I had the tact of a Methadone patient duct taped to the seat of an X-15 on a test run. We finally hit the dirt road, Malcolm shooed us off towards our night stop and we made it into Puertecitos in the black of night.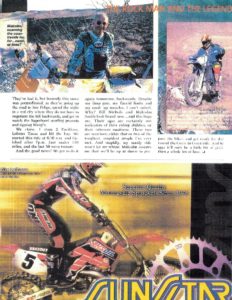 Puertecitos: Beers, Cheers, and Goodbyes
Corky handed Joel and me a Rolling Rock as we sat on the veranda waiting for the rest of the crew to get in. Located on the Sea of Cortez, Pucrtecitos offered a first-hand look at the ocean via a gorgeous bay with barely discernable masts from a number of fishing boats anchored in it. When Malcolm, Bill, Danny Ragland, Jimmy Scones (riding with only the clutch side of his handlebars still attached, as the throttle side snapped off in the sand wash), Ron, Jim O'Neal and the Dempsey brothers get in; Joel has already showered and is searching for beers.
They've had it, but honestly, this move was premeditated, as they're going up the road to San Felipe, spend the night in a real city where they do not have to negotiate the hill backward, and get to watch the Superbowl scarfing peanuts and sipping Margi's.
We chow, I slam 2 Pacificos and hit the hay. We started this ride at 6:30 a.m. and finished after 7 p.m. Just under 150 miles and the last 50 were torture. And the good news? We get to do it again tomorrow, backward. Despite my limp gate, my flaccid limbs, and my used-up muscles. I can't snivel. Why? Bill Nichols and Malcolm Smith look brand new…and this bugs me. Their ages are certainly not indicative of their riding abilities, or their inherent nastiness. These two are warriors; either that or two or the toughest, stupidest people I've ever met. And stupidly, my manly side won't let me whine. Malcolm assures me that we'll be up at dawn to prepare the bikes and get ready for the day 2 of the Coast-to-Coast ride. And he says it will only be a little bit of grief and a whole lot of love.
My dad and I have also ridden some epic dual-sports across Colorado and Utah, Jalisco, and the entire country via the Transamerica Trail.
---
Also published on Medium.