"Official?", you may wonder. What right do you, a San Franciscan who occasionally dabbles in Baja, have to write the official guide to Valle de Guadalupe, Mexico's majestic wine country that lies only an hour or so south of Tijuana? The answer is absolutely none, but, having struggled to find good information online for both of my recent trips, I decided to one-up the official tourism bureau and post my own official guide. As soon as they get around to writing a better one, I will gladly cede this title.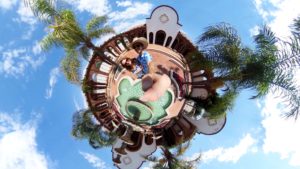 What is Valle de Guadalupe?
Valle de Guadalupe is the crown of Mexican wine country situated in the hills above Ensenada. While Mexico has a rich history of growing grapes in the San Vicente region just south of Valle (Santo Tomás, Baja's oldest winery was founded in 1888), the whole tasting room concept is quite new. In the last few years, however, the region has exploded. Dozens of wineries catering to all tastes have opened all over the valley and publications ranging from Vogue to The New York Times have dispatched travel writers to report on the region. Valle is said to exude the feeling of 1950's Napa and I believe it. The food is fantastic, the lodging spectacular, the wine hit or miss, and the whole experience tied together with rustic dirt roads and handwritten signs. Moreover, unlike the Napa of today, the vintners of Valle are more than happy to break bread with their clients and share the secrets of their trade.
The map above (full screen) shows Valle de Guadalupe's rough boundaries and some of the locations mentioned below. Labels will appear when the zoom level increases beyond 12.
Lobster: Ortega's in Puerto Nuevo. Stop here for lobster on the way down.
Horse: Adobe Guadalupe. Stop by here for beautiful lodging and overpriced horseback riding.
Cabin: Valentino. Stay in modern cabanas built at the foot of boulder-dotted hills.
Glass and grapes: Torres Alegre (great wine), Las Nubes (great views), Cava Maciel (great intimacy), Pijoan (great people)
Picnic table: Deckman's (go for the gastronomy), Finca Altozano (go for the views), Fuego Cocina de Valle (go for the party)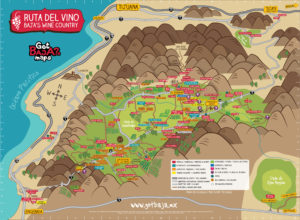 All of these spots (and many more) can be spotted on the tourist map above, which is a must for navigating Valle de Guadalupe.
Note: For those interested in making custom Mapbox icons as seen above, you must edit the raw .svg spec to change the icon color because black icons really do not show up against a satellite basemap. This site provides an excellent explanation of how .svgs files are structured, but as a shortcut, just add stroke="white" before the close of each shape to yield a white outline that is more visible.
The basics
Valle de Guadalupe is situated around an hour and a half south of Tijuana, accessed via either Mexico 1 or 1D. The first time we visited, we hailed an Uber in TJ and made the long journey south. This is a bad idea. First, online directions (Google, Apple, and Uber maps all suffer) were quite poor in Baja at that time and we ended up lost in Ensenada (pro tip: look out for the La Misión sign and turn off there). Second, having a car is essential to getting around Valle. There are no Uber drivers working the valley and traveling on foot and by thumb severely limits options. The second time around, we rented a car at the San Diego airport, paid the $30/day Mexican insurance surcharge, and drove across the border. I would highly recommend the rental car route, but if this sound intimidating, it's also possible to hail an Uber Valle in TJ for day trips. Unlike our ill-fated one-way Uber trip last year, Uber Valle drivers remain with you while you visit the wineries and whisk you safely back to Tijuana when you are done.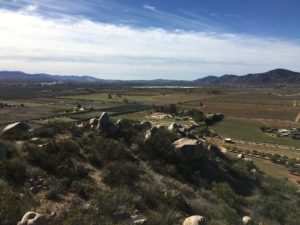 The view from the hill above Valentino is spectacular.
Once you make it to Valle, you should probably identify somewhere to stay. For my first trip, I tried to book ahead, but despite the Napa-esque prices, the internet has apparently not reached most of the establishments here. Phone isn't great either. Perhaps others have had more luck, but I am 0/2 when trying to book lodging ahead of time. Fortunately, supply had exceeded demand on both trips and just showing up and asking for a room yielded a nice spot to sleep on both trips. Tastings and restaurant reservations are also fairly ad-hoc. Just show up to a restaurant or winery and, more often than not, someone will be more than happy to serve you. And if not, there is guaranteed to be another great spot just around the corner.
If you would like to saddle up, all of the stables require advance bookings. I get the feeling that equestrianism, dressage, in particular, is quite serious among the Valle denizens and leading tourists on trail rides is not a high priority. On our first foray to Valle, we made reservations with Hotel Boutique, showed up at our designated time, and were told that the horses weren't ready. For round two, the horses were an hour late. In both cases, we just got more time to enjoy the environs, but don't plan on planning. Valle very much operates on island time.
Sleeping in Valle de Guadalupe
After spending three hours following the fits and fancies of Google Maps from the back seat of an Uber, we arrived at Torres Alegre y Familia for our first Valle experience. We were greeted by the sun setting over the valley, a friendly sommelier, and absolutely no way travel to any type of lodging. We finished our tasting and sheepishly asked the sommelier where we might stay the night. He leaped into action, calling Hotel Boutique Valentino. Within a few minutes, the Valentino groundskeeper/valet/doorman arrived in a beautiful old jeep and whisked us to the accommodations. To give an idea as to how rustic Valle actually is, the picture below shows the road from Torres Alegre to Valentino. Don't see that in Napa!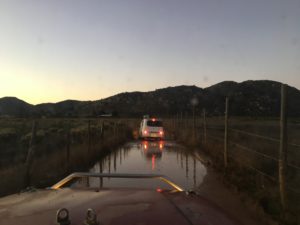 Valentino is a fairly new establishment that is riding the wave of the ever-popular-mini-cabanas-on-a-hillside-look that was popularized by Encuentro, a $500 per night hotel a few miles east. The rooms were absolutely beautiful and short hike above the property yielded the most impressive vista in Valle, with sweeping views of the entire valley.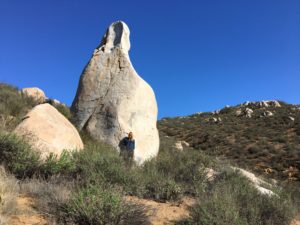 Valle is a geologists dream, I think. These big, smooth rocks are scattered everywhere. Deposited by ancient glaciers, perhaps?
The property wasn't quite firing on all cylinders when we stayed, but our Valentino host, whose name I have inexcusably forgotten, continued to shuttle us around the valley for the rest of the trip. I am confident that this great service will continue to the present. Additionally, Valentino is relatively inexpensive for Valle at less than $200 per night including breakfast.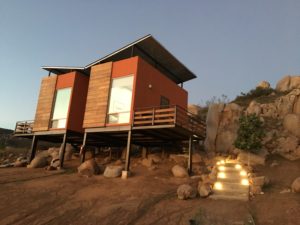 The second time around, we stayed at Adobe Guadalupe after enjoying one of their tastings (actually, we mostly enjoyed the food truck, the Adobe wine is so-so) and wanting to check off the bucket list item of riding horses through a Mexican vineyard. The Adobe property is absolutely stunning and commands $275 per night for the privilege of enjoying one of the six rooms. The complex is centered on the Iranian-style fountain and courtyard pictured below in 360 and sprawls over hundreds of acres of vineyards. Included in the price are a phenomenal farm-to-table breakfast, one of the best pools in Valle, and a private tasting in the caves.
In addition to lodging, Adobe has an extensive stable. For $70/person you can go on an hour-or-so-long trot through the vineyards. In reality, our ride was 45 minutes along a dirt road and 30 minutes following some singletrack through the hills near Fuego. Not having ridden horses for years, I had a great time, but Tori did not share my experience. Her snappy white horse, Camelia, bucked her off shortly after this picture was taken. Watch out for these horses! They are wild!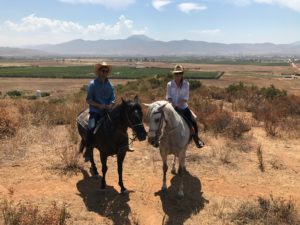 Eating in Valle de Guadalupe
The food in Valle is uniformly outstanding. Because tourism in the region is so new, chefs have an opportunity to create unique dishes with the exotic local ingredients, which span from Ensenada's seafood to Baja's beef to Valle's own fruits and vegetables.
Our first meal in Valle was with the team at Fuego simply because we could walk there from Valentino. Fortunately, the location proved to be quite auspicious. Our meal was creative and rich and the waitstaff was hyper attentive, as expected given we were the only diners. Valle doesn't see much action in December.
Coming back the second time, we wanted to explore a little more. Our first night, ventured to Finca Altozano, a fantastic farm-to-table restaurant sprawled out across a rustic deck overlooking the valley. While the food was fantastic, the Finca's layout promotes a very social environment and we befriended another group from NorCal. They graciously sent us our first drinks and we had no choice but to send them tequila shots in return. Thus started a vicious cycle that mercifully came to an end by the time the richest cornbread and icecream I have ever had arrived for desert.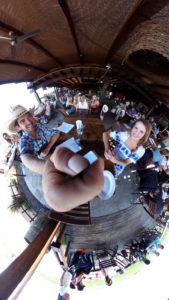 The Finca's deck is quite the scene. Watch out for tequila shot battles with other tourists.
Lunch at Deckman's was quite a different scene. While Deckman's shares the outdoor layout and farm-to-table menu, the vibe is romantic-date, not the-place-to-see-and-be-seen. Rather than the big, social picnic tables found at Finca, Deckman adorns their space with tables for two. I ordered the prix fixe, five-course tasting menu and was delighted by a series of rich, creative dishes sourced from all local ingredients and artfully prepared in an outdoor kitchen positioned near the center of the restaurant.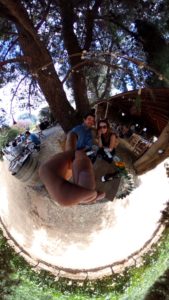 We lucked into the best seats in the house at Deckman's.
Tasting in Valle de Guadalupe
Like the food, the wine in Valle is quite experimental. Vinters are still experimenting with different varietals and techniques. While there, you will taste anything from the most boring steel-barrel chardonnay to a head-popping cabernet sauvignon that pulls the salinity of the region right into your taste buds.
Torres Alegre y Familia is the top dog in Valle. The proprietor and oenologist, Victor Torres Alegre, studied winemaking at University of Bordeaux in France. All of his wines show it. Personal favorites were the 2013 Sauvignon Blanc from their Cru Garage collection. This wine aged for 24 months in French Oak barrels and was limited to 1,248 bottles. It is crisp, snappy, and perfect for the warm Valle afternoon.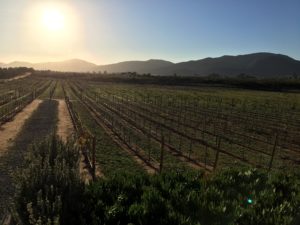 The sun setting over Valle from Torres Alegre y Familia
Vinos Pijoan is a quick stop on the way in. The staff was friendly, but the wines and ambiance were unmemorable. In a vacuum, Pijoan is a great spot, but the competition in Valle is quite stiff.
Las Nubes offers the most incredible views the valley. The tasting room is nestled at the base of the foothills defining the north edge of Valle de Guadalupe. In addition to grapes, they grow a variety of different fruits and vegetables that all make their way into the marvelous tapas served alongside the tasting. The wine at Las Nubes was not particularly memorable, but enjoying the jam and cheese plate while lapping up the sweeping landscape should make its way onto every Valle itinerary.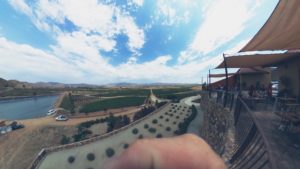 Unfortunately, this cropped 360 picture is all I got. You will have to take my word for it that Las Nubes is a must-visit winery.
Adobe Guadalupe and Torres Alegre both enjoy the review objectivity afforded by two visits. In both cases, my initial impressions withstood the second test. As I mentioned earlier, Torres Alegre is fantastic. Adobe Guadalupe, unfortunately, leaves a little more to be desired. Their wines are all relatively watery and many taste overly saline or acidic. That said, Valle is young and learning and not just about the wine. The Adobe Guadalupe environs are colonial picturesque and a food truck stations itself inside their tasting yard. Despite preferring other wines, I had a great time enjoying the sun and the company of other visitors at Adobe and would definitely recommend a visit. Make sure you give yourself a tour of the entire complex if you like beautiful horses and middle eastern architecture.
Cava Maciel was our final stop and came recommended by the legendary Mauricio Parra, of Lost in Baja, a top tour operator and logistics provider to the Baja Rally. All of the other wineries are quite large and built for tourists, but Cava Maciel is just getting started and much more of a family affair. The wine was interestingly saline and good enough that we picked up a bottle to make the long journey home with us. Visiting a smaller operation was quite interesting because we got to learn much more about wine and the techniques and were treated like special guests. Cava Maciel did not seem to keep any regular hours, but this general region is full of small upstarts. If we had more time, I would love to have spent more time off the beaten track in this southwestern region of Valle ge Guadalupe.
---
Also published on Medium.