The last few years have been the most educational of my life. It has been an incredible privilege and pleasure to work alongside so much talent underneath the roof of 1608 Fourth St. at the 3D Robotics world HQ. When I joined 3DR, Jeevan Kalanithi, 3DR's then-VP of Product, and Chris Anderson, 3DR's founder and CEO, believed in me and gave me the incredible opportunity to build a completely new enterprise product in the corner of a rapidly scaling consumer electronics business. While 3DR was bringing autonomous flying robots to the mainstream for the first time in history, I (and later joined by a stellar team) was toiling away to turn these toys into tools.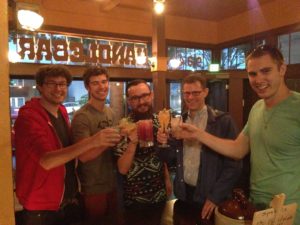 The original Site Scan, née Inspector Gadget, team. From left, Tim Ryan, yours truly, Ramon Roche (now with DroneCode), Jason Martens (now with Zendesk), and Jeremiah Johnson (Solutions Architect at 3DR).
Seeing Site Scan evolve from a personal science fair project to a serious enterprise product has been a truly unforgettable experience. Learning enterprise software fundamentals from Keith Bigelow, customer development from Jeevan Kalanithi, and storytelling from Chris Anderson has been an experience that no university could possibly hope to replicate. I feel so fortunate having worked for three absolute masters of their crafts.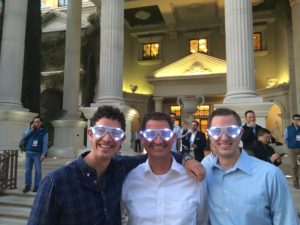 Keith (now at GE Healthcare), Jeremiah, and I at One Team Conference, Autodesk's annual sales meeting, having fun signing up Site Scan resellers in Las Vegas.
However, when I joined 3DR, I had a vision of drones as nothing more than conduits for data. I imagined swarms of autonomous drone fleets scanning construction sites, mapping farms, and surveying mines. I imagined a world where detailed geospatial data returned to 3DR for aggregation, analysis, and productization. While behaviors and regulations have slowed the adoption of autonomous drone technology and limited the scope of this vision, this world of near-real-time GIS data has arrived 500 km above the surface of the earth.
Satellites are quietly imaging every corner of the globe at a rapidly increasing frequency, collecting the exact data sets needed to derive the types of insights I imagined building at 3DR. In addition, recent advances in AI-based computer vision and data science have enabled analysis of this imagery at an unprecedented scale and accuracy. The confluence of these two factors has opened the gates for floodgates for a new type of company that is a continuously monitoring the economy from space and delivering intelligence to customers across business units. That company is Orbital Insight. Today, I am proud to announce that I will be joining Orbital Insight as Director of Product Management, Infrastructure to build delightful solutions for monitoring global infrastructure from space. While 3DR will always hold a special place in my heart and I anticipate continuing to see great things out of the Site Scan team, I could not be more excited to take the next step in my career and move onward and upward. On to the cosmos!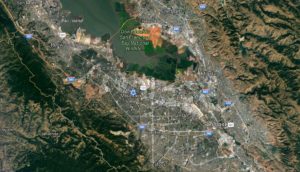 The Orbital HQ in Mountain View from outer space. Google fuses a variety of data sources, but this image was likely captured by one of Digital Globe's QuickBirds.
---
Also published on Medium.